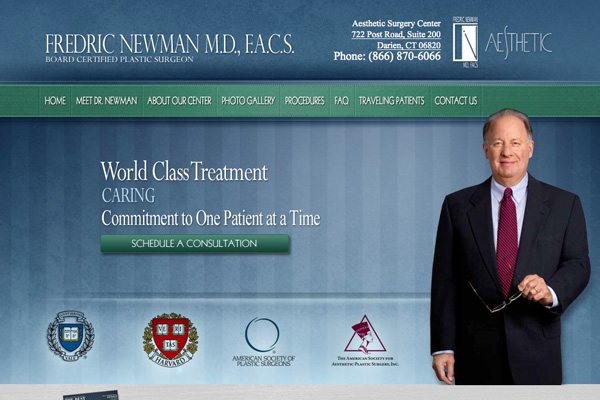 Project Details:
Launch Date:
April 2012
Page Count:
55
Services Overview:
Custom Design, SEO, CMS, Photo Upload Gallery and Blog
Compatibility:
Desktop
Visit Website:
Categories:
For many patients, a tasteful, professional, and informative website can be one of the most helpful tools in their decision on which practice to choose for an aesthetic procedure. Dr. Fredric Newman, a plastic surgeon in Fairfield, CT, and the Rosemont Media team took great care when redesigning his site to make sure each facet fit together perfectly to create a thorough, engaging experience for patients looking for cosmetic surgery information. Through a host of new features and a uniquely crafted design, Dr. Newman sought to capture the essence of beauty that is revealed through plastic surgery procedures such as a facelift in Fairfield. A user-friendly and functional homepage combines drop-down menus and interactive tabs to guide patients through their educational process. Rosemont Media's extensive expertise in website design and development allows us to target patient needs and satisfy them with professionalism and credibility. Dr. Newman's new site also features social media buttons to enhance the quality of his doctor-patient communication and promote interaction in the expanding online community.
The new website also features 100-percent custom content and designs that keep patients coming back again and again for a reliable source of information. The latest search engine optimization tactics and intentional strategy from Rosemont Media's fredricnewmanmd.com.