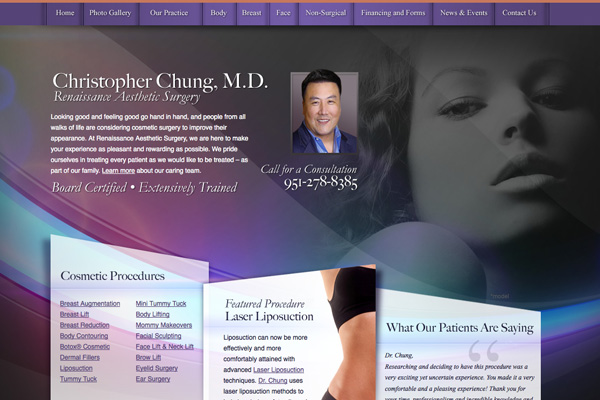 Project Details:
Launch Date:
January 2011
Page Count:
30
Services Overview:
Custom Design, SEO, CMS, Photo Upload Gallery and Blog
Compatibility:
Desktop
Visit Website:
Categories:
For Riverside plastic surgeon Dr. Christopher Chung's new website, our team of designers, writers, and developers created a stunning compilation of text and graphics to aesthetically attract users and keep them returning for valuable cosmetic information. Dr. Chung wanted to combine the latest in plastic surgery website design tactics with an eye for artistic allure and subtle beauty. By utilizing the latest in search engine optimization techniques and medical terminology, the Rosemont Media writers clearly outline Dr. Chung's procedures in an easy-to-read flow that is both conversational and experienced in tone. Whether patients are looking to browse Dr. Chung's photo portfolio for examples of his results or learn more about breast augmentation in Riverside, the new website provides a beautiful portrait of his compassion and dedication to the highest quality patient care.
With an easily navigable layout and in-depth procedure pages, Dr. Chung's website gives patients assurance of the comfortable care they will receive in trusting a qualified plastic surgeon.
To get a better picture of the type of website Rosemont Media can create for you and your practice, visit drchungplasticsurgery.com.