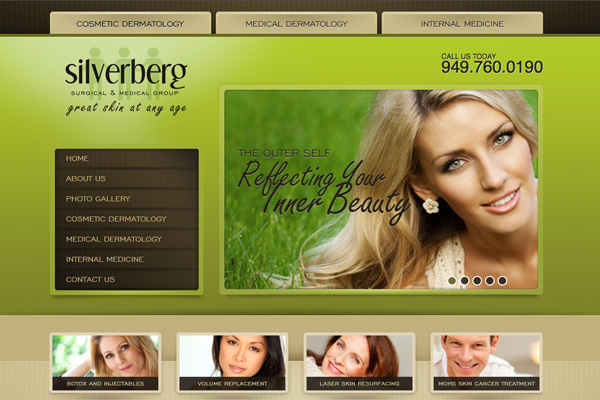 Project Details:
Launch Date:
June 2011
Page Count:
28
Services Overview:
Custom Design, CMS, SEO, Photo Upload Gallery and Blog
Compatibility:
Desktop
Visit Website:
Categories:
Newport Beach dermatologists Dr. Nancy Silverberg and Dr. Larry Silverberg are the medical directors at Silverberg Surgical & Medical Group. In collaboration with our talented medical website design team, both doctors have created a comprehensive overview of the Newport Beach dermatology practice in an easy-to-navigate and aesthetically-pleasing framework. With their patients in mind, www.silverbergmd.com provides current and potential patients alike with an educational resource to inform their skin care decisions, as well as doctor biographies, before-and-after galleries, and social media buttons.
The website content is fully-optimized for all major search engines and social networks including Google, Bing, Facebook, and Twitter. The ultimate goal according to Dr. Nancy Silverberg is to provide their patients with the information they need to help them develop their dermatologic and skin care goals.
Visit silverbergmd.com for more information on the website design and search engine marketing campaigns available with Rosemont Media.