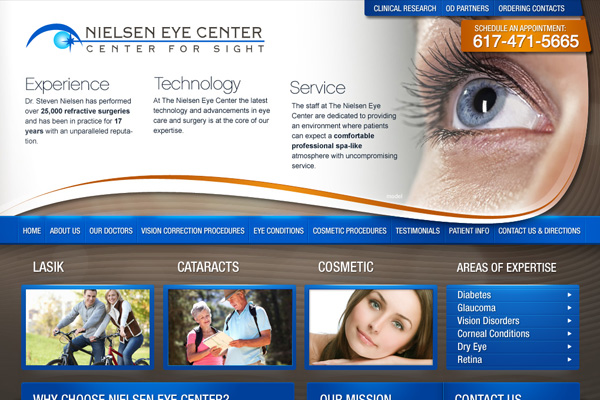 Project Details:
Launch Date:
June 2012
Page Count:
56
Services Overview:
Custom Design, SEO, CMS, JavaScript Slide Show, and Blog
Compatibility:
Desktop
Visit Website:
Categories:
Dr. Steven Nielsen and his staff sought the partnership of Rosemont Media to help develop a medical website design that specifically met Nielsen Eye Center's goals. Themed throughout with an aesthetically-pleasing color scheme, the customized site features multiple drop-down menus leading to a variety of detailed, procedural information written in an easily understandable tone. Complete with social media buttons and testimonial pages, Dr. Nielsen's site is a user-friendly tool for the community to ask questions, receive answers, share experiences, and even establish a strong doctor-patient relationship.
As an Ophthalmologist, Dr. Nielsen stressed that the website had to encompass Nielsen Eye Center's entire realm of services and information on the latest techniques and procedures for treatments such as cataract surgery and LASIK. To simplify the patient education process, numerous videos, diagrams, and links to related pages are incorporated throughout the site, as well as a video library complete with procedure animations.
Dr. Nielsen's blog is easily accessible so that he can share his medical knowledge and expertise while keeping the public informed on the latest industry and practice news. Additionally, the site is equipped with the latest search engine optimization and social media optimization strategies, making it possible for Dr. Nielsen to monitor traffic and remain a leader in the Boston eye care market.
To look a little closer at the type of website that Rosemont Media can customize for you, visit www.golasik.net.