How to Generate Blog Topics Patients Will Want to Read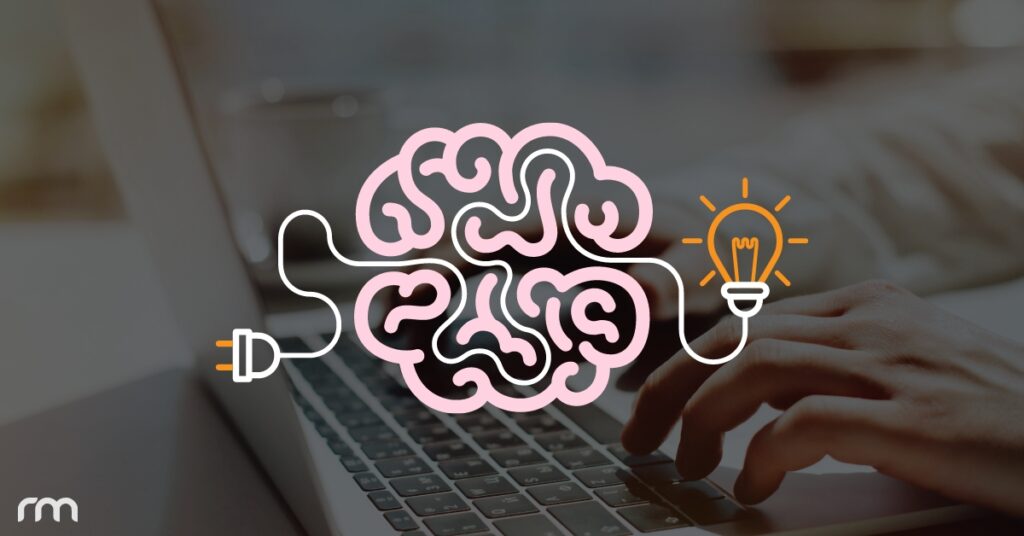 Consistent blogging is an important part of maintaining a strong and successful content marketing strategy. But what's the point if no one is reading your blogs? The whole purpose of blogging is to bring patients to your website, so how do you grab their interest? Put yourself in their shoes: if you were a patient considering a tummy tuck, what sorts of questions would you ask? Perhaps you would wonder how much money you might need to save up for such a procedure, so "How much does a tummy tuck cost?" is a good place to start. Questions like this make great blog topics, due to their popularity in online searches. To get more eyes on your content, promoting your blogs on social media and remaining consistent with your posts can increase the likelihood of someone seeing your work. Additionally, adding graphics or images to your blog in strategic places can help keep your viewers engaged. Implementing simple elements like this can help make your blog more enticing and interesting for your clients, continue reading to learn more.
Determining Trending Topics
You may be asking, "How will I know which questions are trending online?" A cursory online search of your own can help ensure your blog topics align with what patients are actually asking. If you search the term "tummy tuck" on Google, for example, in addition to some relevant search results that may help guide you in the right direction, you may notice some additional suggested searches along the bottom of the results page. These are called long-tail search terms, and they are generated based on popular searches. If you're not sure what you're looking for, here is an example: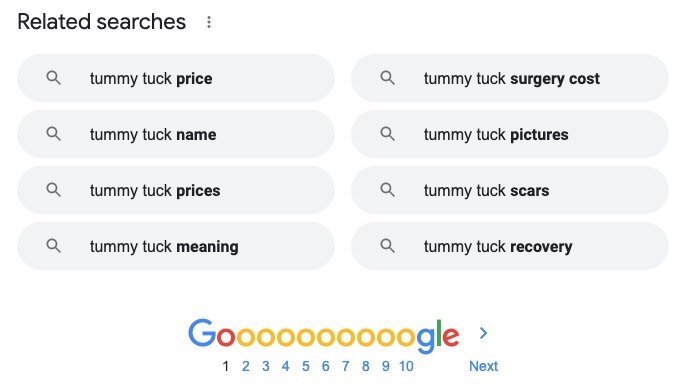 You probably noticed that "tummy tuck surgery cost" and "tummy tuck price" are among these results, which should help you better understand the types of questions patients may have when they are researching this particular procedure. If your blog happens to have a post that addresses this specific topic/question, your website has now become an excellent resource for countless curious patients!
Many individuals also submit questions on popular forums, such as RealSelf. Finding frequently asked questions on sites such as these can also help provide you with ideas for blog topics that may interest your audience. Creating informational blog posts can be mutually beneficial—your blog can help patients better understand the procedures they are considering, and you can potentially boost traffic to your website by answering common questions and concerns (or debunking popular myths and misconceptions).
Monitoring trends in online searches can also help you to create more targeted topics. For example, more people may be searching for information about ways to protect themselves from the sun during the summer months—so if you are a dermatologist, it may be in your best interest to publish educational blogs on this topic throughout the summer. If you are a dentist, blogging about teeth whitening and/or Invisalign® during wedding season is also a smart move!
Remember: although posting quality content on your blog can help improve patient education, it is crucial to round out the rest of your marketing strategy by balancing search engine marketing, social media marketing, and content marketing. Without the support of these additional tactics, your post may not be seen by its intended audience.
Promoting Your Blogs with Social Media
Though your current and potential patients may not always be exploring the pages of your website or blog for new information, there's a good chance that they regularly peruse Facebook and Instagram. Take advantage of this consistent social media behavior by making sure you are recruiting an audience to follow your social accounts and promoting your new blog posts on all of your channels. Branded imaging, clever taglines, engaging/stimulating post content, and expert use of emojis can help draw a crowd to your latest blogs. While likes, comments, and shares of these posts can benefit your social presence and brand recognition, click-throughs from social posts to your blog can increase traffic and encourage visitors to explore all your website has to offer. Mastering the process of promoting your blogs on social media certainly takes some detailed planning, creativity, and synchronized efforts, but the payoff is worth it to gain visibility for the blogs you worked so hard to create! If your practice needs more support with social media, the experienced Rosemont Media Social Team is available to provide expert guidance in all areas.
Creating a Visually Engaging Post
There is still more you can do to increase your engagement after you have strategically selected your topics and promoted your blogs with social media. Another way to ensure you are creating content that patients can enjoy is to make it visually stimulating. While the content of your blog may be compelling, the attention spans of viewers may be hard to keep up with if your post doesn't necessarily "pop." Adding a certain level of visual appeal can (understandably) boost the likelihood of your content keeping viewers on your site. Using graphics to help explain a certain point can make it easier for the reader to understand, as well. This is especially true if your blog is particularly long. If applicable, inputting the information you are trying to convey in a table, chart, or infographic may be beneficial for readers. Imagery can go a long way in creating a post that is all-around more enjoyable for the viewer. However, it should be noted that adding random visuals all over your blog can make it look cluttered, unprofessional, and incoherent. For the best results, imagery should be incorporated thoughtfully and with a purpose.
To learn more about how you can fine-tune your blog topics and establish a strong online presence through content marketing, social media marketing, and search engine marketing, please contact Rosemont Media today.
Editor's note: The original version of this post was published on August 25, 2015.