The Importance of Balancing SEO, Content Marketing & Social Media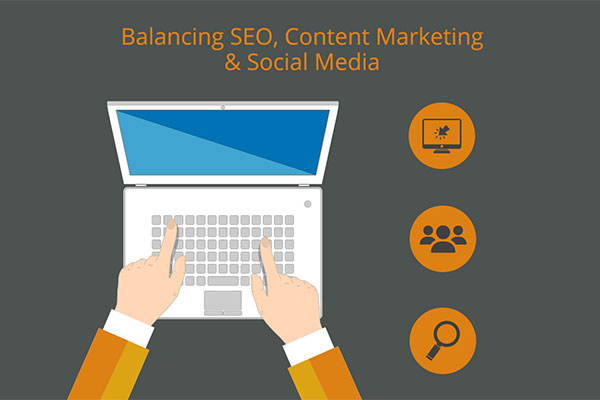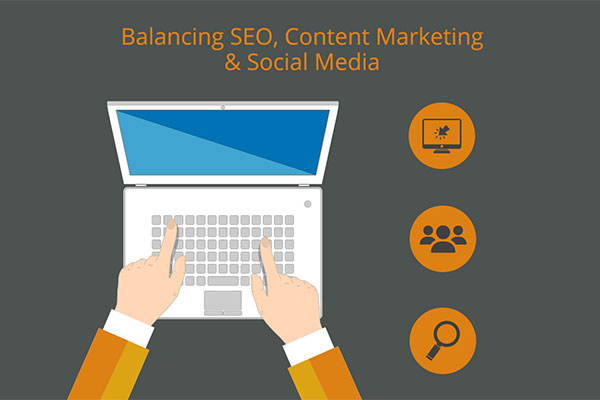 There are several ways to stand out online, but it's only when you combine different tools that you can achieve your full potential. With the many changes that have occurred in just the past couple of years, it is crucial for an online marketing strategy to prioritize three areas in particular: search engine optimization, content marketing, and social media. This multidisciplinary approach creates a synergy that can dramatically impact your online presence.
Before you jump into this harmonious strategy, you need to set goals and objectives so you know what you're working towards. Do you strive to reach the top of Google? Are you looking to enhance your credibility as a professional? Maybe you're interested in connecting with new people and potentially gaining new patients. Each of these goals can be reached when your SEO, content, and social media marketing work together under one strategy. So how exactly do you integrate these efforts?
Create quality content. By composing valuable content and optimizing it based on the latest search engine guidelines, you can get noticed. Editor's tip: while it can be tempting to produce only promotional material, you should also put out informative work, as this can position you as an expert.
Promote on social media. With this content now public, it's time to nudge it into the spotlight by sharing the work on social media. By doing so, you can reach your audience more directly, helping you get the most out of your effort–not to mention it can also help with your SEO.
Optimize your content based on analytics. Use resources like Google Analytics and social media stats to learn which content performed the best. With this information, you can adjust your calendar for the future to incorporate more of what your audience responds to most, which can ultimately help enhance your SEO results.
By implementing these tactics, you can achieve the ultimate synergy in marketing while boosting your online presence to new heights.
Stand Out with Rosemont Media
If you want to stand out from the crowd but aren't sure where to start, look no further! Rosemont Media is composed of a knowledgeable team of professionals specializing in each one of these online marketing strategies. Our clients are proof enough that balancing SEO, content marketing, and social media can help you surpass the competition and get noticed. With the ever-evolving digital market, isn't it time you get up-to-speed? If you have any questions, or would like to learn how you can improve your online presence, please contact us today!