Dentists at Pasadena Dental Aesthetics Launch Expansive New Website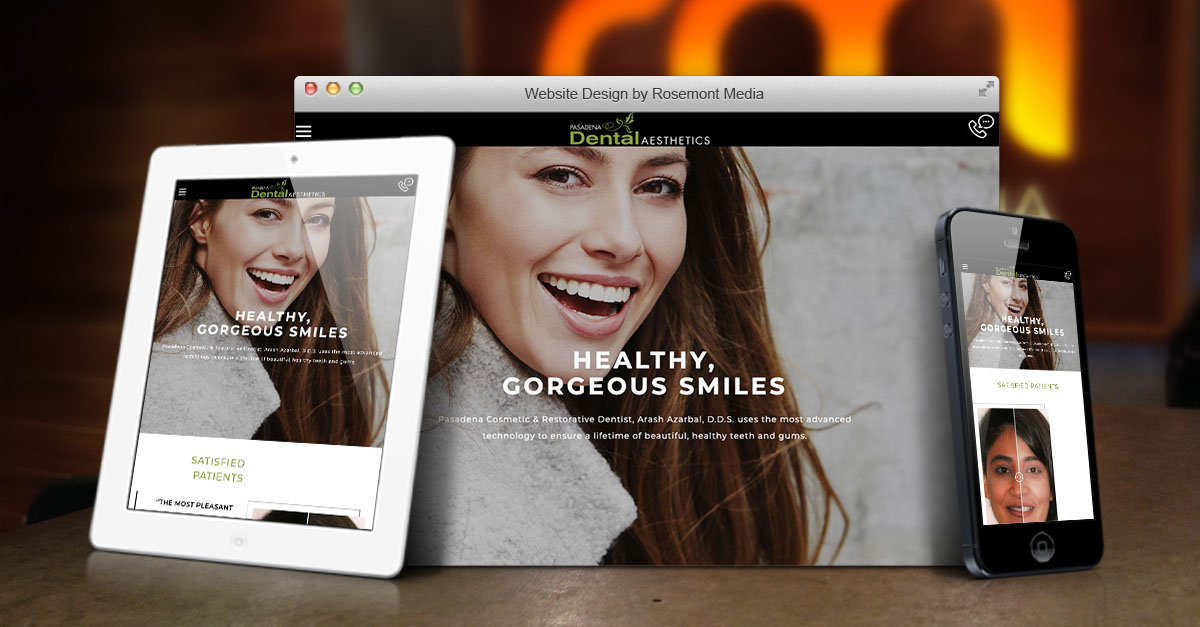 Dr. Arash Azarbal and his dental team at Pasadena Dental Aesthetics are opening the virtual doors on a comprehensive new website designed to serve as a thorough educational resource for viewers considering their options for dental care.
Pasadena, CA – With the information age roaring into the 2020s, websites are becoming faster, more accessible on a range of digital devices, and capable of providing more advanced interactive tools for viewers to consume just about anything they want to know. Dr. Arash Azarbal, a dentist in Pasadena and the head of Pasadena Dental Aesthetics, is taking advantage of the continuing technological evolution by upgrading his practice's website to provide individuals looking for advanced dental care options with a comprehensive educational resource. The new site offers a detailed view inside the practice, an explanation of the dental team's philosophy of care, and thorough information on what patients can expect from the many cosmetic, restorative, and family dental treatments available.
Designed with responsive capabilities to make it just as easily accessible and navigable on a mobile device as it is on a desktop computer, the new website for Pasadena Dental Aesthetics includes biographies of the dental team and page after page of custom content describing treatments such as dental implants, porcelain veneers, Invisalign®, teeth whitening, sleep apnea and TMJ Disorder treatment, and many other options. In addition, the new site showcases patient reviews of the practice, a before-and-after photo gallery, and an updated blog featuring the latest news about dental treatments and tips on how to maintain a healthy, beautiful smile. Plus, dedicated pages on Smile Makeover treatments and how the practice can address multiple aesthetic and functional dental concerns convey the office's commitment to providing a full selection of treatments that enable many patients to conveniently obtain the care they need without having to refer them to offsite providers. The website is also intricately designed to provide an appealing look while displaying information in an easy-to-read (and easy-to-find) format.
The new site for Pasadena Dental Aesthetics was developed in collaboration with San Diego-based medical and dental website design firm Rosemont Media. Dr. Azarbal and his dental team hope that this extensive upgrade to their previous website provides individuals who are considering their options for dental care with an in-depth view inside their practice, along with the answers they're looking for in terms of how specific treatments may be able to help them renew their smiles and maintain excellent oral health for years to come.
About Dr. Arash Azarbal & Pasadena Dental Aesthetics
Pasadena Dental Aesthetics is a practice dedicated to providing patients with a comprehensive array of advanced cosmetic, restorative, and family dental care options. The head of Pasadena Dental Aesthetics, Dr. Arash Azarbal, has been extensively trained and educated in the fields of cosmetic and restorative dentistry, as well as sedation dentistry, orthodontics, and sleep apnea. The dental team also includes an oral surgeon and implant dentist, Ian Woo, DDS, as well as endodontist Parham Mansouri, DDS and a full staff of hygienists and dental assistants. The mission of Pasadena Dental Aesthetics is to provide high-quality, customized care to each and every patient while utilizing the latest treatment techniques to maximize comfort and achieve exceptional results. Dr. Arash Azarbal is available for interview upon request.
To learn more about Dr. Arash Azarbal and Pasadena Dental Aesthetics, please visit pasadenadentalaesthetics.com and facebook.com/pages/Pasadena-Dental-Aesthetics-Arash-Azarbal-DDS/155437344496718.
Contact:
Pasadena Dental Aesthetics
826 Union Street
Pasadena, CA 91101
(855) 768-7333 (New Patients)
(626) 793-4683 (Main Number)
Rosemont Media
(858) 200-0044
www.rosemontmedia.com