Do You Have a Mobile Strategy to Gain More Reviews for Your Practice?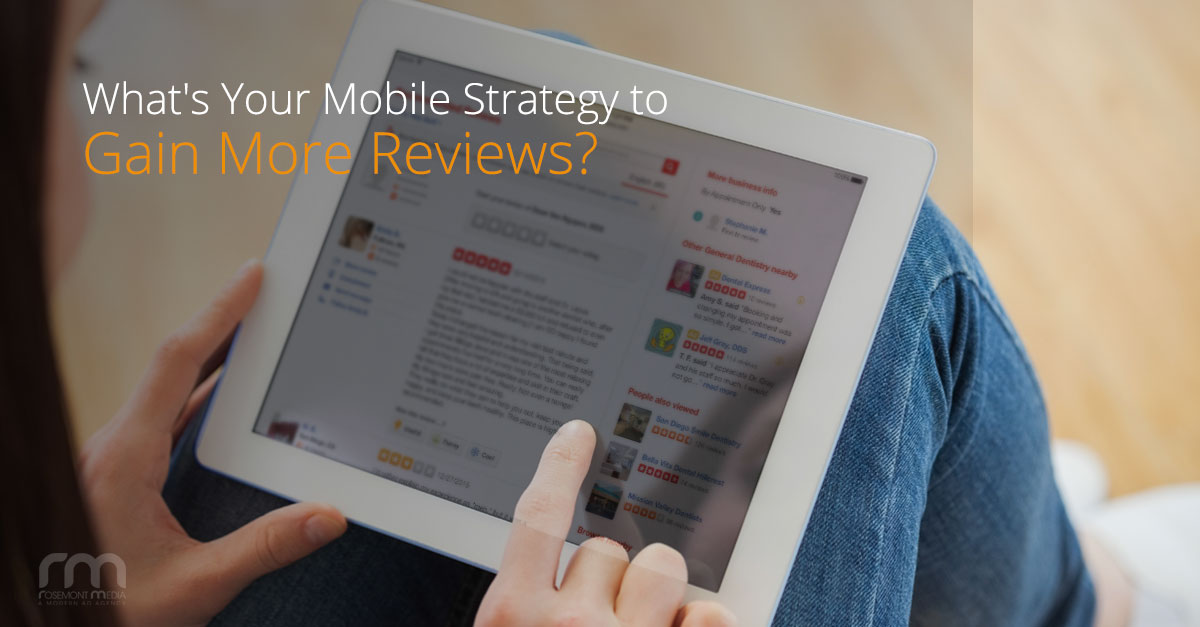 Patient reviews are quickly becoming one of most influential resources for people who are looking for medical and dental services. Two of the things we talk most about here on our Rosemont Media blog are: 1) the importance of reviews and how you can successfully manage them; 2) the absolute necessity of having a responsive website to accommodate society's gradual (but rapid) mobile revolution. With emerging trends, it's now time to discuss the blending of these two concepts in order to place a focus on gaining reviews from patients via mobile platforms.
Here's What's Going On
First, some numbers: according to a survey by BrightLocal and cited by Search Engine Land, one of the most prominent companies devoted to analyzing SEO best practices, the good ole personal computer is still how most people read reviews; however, that's not the case for everyone.
97% of consumers between 18 and 34 read local business reviews online (regularly or occasionally)
91% of 35-54 year-olds read local business reviews online (regularly or occasionally)
86% of consumers aged 55+ read local business reviews online (regularly or occasionally)
The percentage of consumers who trust online reviews also ranks very high among younger individuals, and gradually declines among older demographics. Older people appear to trust personal recommendations more than online reviews.
The survey breaks these down even further:
58% of consumers aged 18-34 have searched for a local business online at least once each month over the last year
43% of those aged 35-54 have done so at least once a month
26% aged 55 and over have searched for a local business online at least once a month
Now, look at where mobile comes in:
While website visitors who are 55 and over seem to prefer their desktop PCs, a whopping 62 percent of viewers between the ages of 18 and 34 have used a mobile internet service to read reviews. This is very important because it looks as though the rise in people who may be basing their decisions on reviews from other patients is concurrent with the rise in those who are searching for their doctors on mobile devices.
One of the key things to remember here is just how much mobile devices have integrated themselves into our lives. One recent study cited by Google estimated that 87 percent of the millennial generation is NEVER without their phones, and another analytical study found that a huge percentage of smartphone users engage with their phones dozens of times a day.
Read about the importance of having a mobile-friendly website.
What This Means
Ultimately, for all age groups, it is important to have a system in place within your medical or dental practice to campaign for more positive patient reviews – one that takes into account both mobile devices and desktop computers. Simply taking good care of your patients and relying on your number of reviews to increase organically is not enough. You have to actively ask for reviews and make it as easy as possible for someone to be able to write a review both on a desktop and a mobile device.
There are tools and mechanisms available right here at Rosemont Media that can make it quick and easy to write a review directly from your website via smartphone or tablet computer. These advanced techniques can serve to make your reviews more accessible for those who primarily use desktop computers as well as individuals who have made smartphones and tablets their go-to devices. As we head into the ever-evolving future of search engine marketing, Rosemont Media can help you stay on trend with ways to continue leaping forward and developing strategies to ensure your practice stands out in your community!
Contact Rosemont Media
For more information on mobile strategies to gain patient reviews, please don't hesitate to contact us today. One of our consultants will be happy to talk with you about your options and how they can benefit your practice.