Jackson Cosmetic Dentist Showcases New Design for Practice Website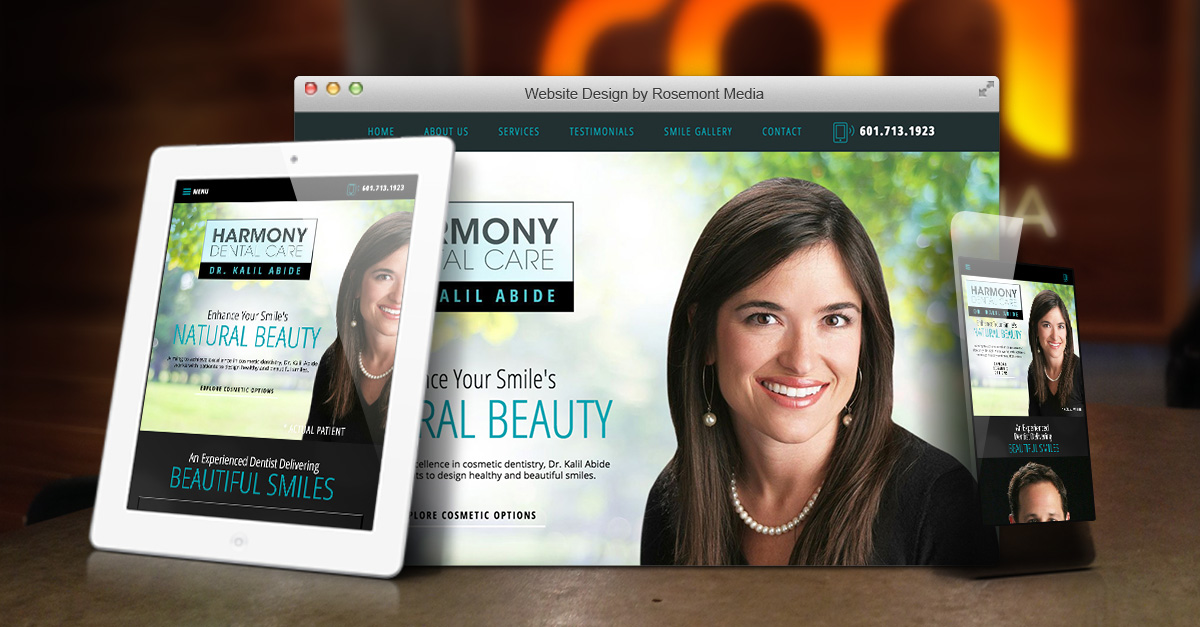 Dr. Kalil Abide and his staff at Harmony Dental Care recently launched the redesign of their practice website, equipped with a modern look and improved usability.
Jackson, MS — Harmony Dental Care offers a wide range of cosmetic and restorative dental treatments, which are discussed in detail on the practice's website. In an effort to enhance this resource for patients, cosmetic dentist Kalil Abide, DDS recently upgraded the website with a new look. The redesigned version of the site offers a fresh, modern look and more user-friendly layout to help visitors find the information for which they are seeking.
For Harmony Dental Care's new website, Dr. Abide opted for a clean, contemporary design that portrays the soothing yet professional nature of the practice's physical office. With interactive design elements and an easy-to-use page structure, the site emphasizes the advanced services offered at the practice, including treatments like dental implants and porcelain veneers. Pictures of actual patients, as well as patient testimonials, are also featured across the website, helping current and prospective patients understand what to expect when they choose Dr. Abide for their dental care.
To access the updated website design, visitors can utilize any Internet-compatible device, and depending on the technology being used, the site will automatically resize to fit the screen in use. This responsive design creates a more convenient layout with increased usability. When browsing through the site, visitors can find comprehensive procedure pages, important details about the dental team, as well as educational posts and practice updates on the blog. The pages were also optimized with best dental SEO practices, which were put into place to improve the practice's visibility in search engines.
For the creation of his new website, Dr. Abide worked with online marketing firm Rosemont Media. Through this collaboration, the teams were able to build a site that better demonstrates Harmony Dental Care's advanced service offerings and commitment to patient care.
About Kalil Abide, DDS
After completing his undergraduate degree at Mississippi State University, Dr. Abide attended the University of Tennessee College of Dentistry in Memphis. He also completed training at the Dawson Center for Advanced Dental Study in St. Petersburg, Florida. In addition to providing a wide range of dental services at his practice, Dr. Abide is an active member of the American Dental Association, Mississippi Dental Association, and American Academy of Cosmetic Dentistry.
Contact:
Harmony Dental Care
3000 Old Canton Rd
Suite 515
Jackson, MS 39216
(601) 713-1923
Rosemont Media
(858) 200-0044
www.rosemontmedia.com