Middletown Dentists Launch New Custom Practice Website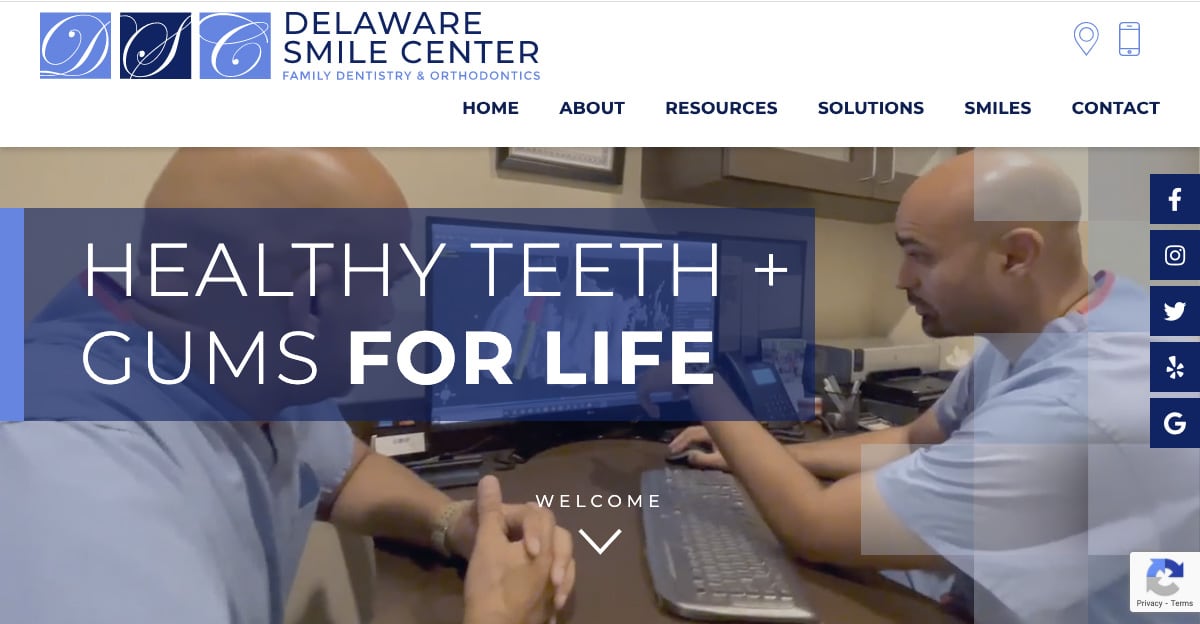 The dentists at Delaware Smile Center recently launched a new website that highlights the array of state-of-the-art dental and orthodontic treatments they offer.
Middletown, DE — The team at Delaware Smile Center is committed to providing patients with top-notch service and exceptional dental outcomes. Drs. Saqib and Sohaib Usmani offer a range of cosmetic, restorative, and general dentistry treatments, such as porcelain veneers, teeth whitening, dental implants, and periodontal care. Orthodontist Sophia Usmani, DMD is also able to provide full-service orthodontic care, including Invisalign® and traditional braces. The Middletown, DE practice takes pride in being able to treat virtually any dental or orthodontic concern under one roof, resulting in a more streamlined patient experience. They recently launched a new website that serves as a comprehensive resource for current and prospective patients regarding the array of smile-enhancing treatments available at Delaware Smile Center.
The new practice website was developed with a number of advanced features, including:
Responsive Design: Delaware Smile Center's new site is designed to be fully responsive, automatically adjusting to fit the size of any screen or device.
Original Content: The website is outfitted with custom content to provide patients with detailed information about various procedures as well as the practice itself.
Photo Gallery: An expansive photo gallery showcases the results that the practice has helped past patients achieve.
Search Engine Optimization: The website has been outfitted with optimized dental SEO in order to boost the practice's visibility in search engines.
Custom Design Elements: Delaware Smile center is family-owned and operated, and their new dental website design conveys their warm and welcoming approach to care. The homepage features a video tour of the office, and all of the staff photos are outfitted with a custom-built hover effect that toggles between different images of each staff member.
In order to create the stylish, responsive new website they envisioned, the doctors at Delaware Smile Center partnered with digital marketing firm Rosemont Media. They are thrilled to be able to supply patients with such a comprehensive resource about the range of high-quality dental services on offer at their practice.
About Delaware Smile Center
Delaware Smile Center is a family-run dental practice in Middletown, DE. Drs. Saqib and Sohaib Usmani offer a full range of cosmetic, restorative, and general dentistry services, including dental implants, teeth whitening, porcelain veneers, and more. In addition to providing top-notch dental care, Delaware Smile Center also has an in-house orthodontist. Dr. Sophia Usmani offers comprehensive orthodontic care to address tooth, bite, and jaw alignment concerns. The entire dental team is committed to providing a high-quality treatment experience for patients of all ages in a comfortable, welcoming environment. The Delaware Smile Center team is available for interview upon request.
To learn more about Delaware Smile Center, visit desmilecenter.com, facebook.com/DelawareSmileCenterMiddletown, and @desmilecenter on Instagram.
Contact:
Delaware Smile Center
201 Carter Drive, Suite #A
Middletown, DE 19709
(302) 285-7645
Rosemont Media
(800) 491-8623
www.rosemontmedia.com