Springfield Cosmetic Dentist Reveals the Launch of His Website Redesign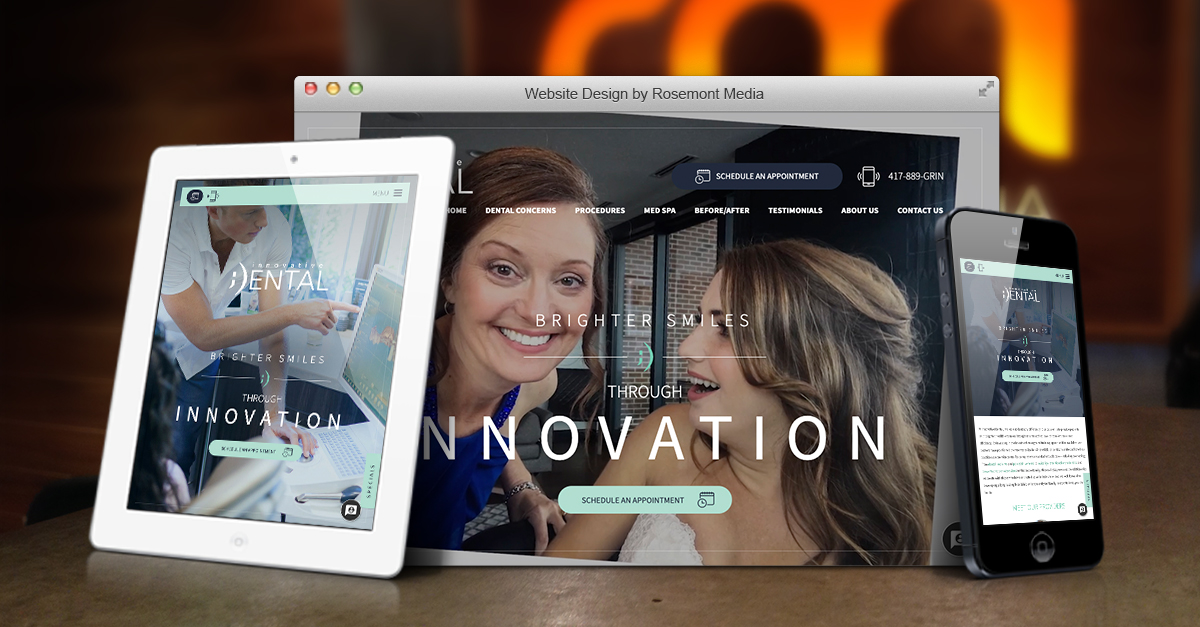 Cosmetic dentist Grant Olson, DDS recently launched a redesigned version of the Innovative Dental website, making it a modern, easy-to-use resource for current and prospective patients.
Springfield, MO — According to Dr. Grant Olson, he and his team at Innovative Dental have made it their mission to provide patients with the best possible experience using a range of advanced technologies and techniques. As a part of this mission, the Springfield dentist has recently upgraded the design and functionality of his dental website. The site redesign includes a range of cutting-edge features as well as custom content intended to give patients an easy-to-use resource on the range of general, implant, and cosmetic dentistry options the practice offers.
The visual elements of the new website design highlight the modern, innovative approach that the practice takes to dentistry. Sleek, complementary colors frame high-quality images and videos of actual staff members and patients, providing an inviting look at Innovative Dental's many amenities and showcasing the advanced technology the practice employs. An accessible and intuitive navigation menu allows visitors to easily browse through the website, where they will find a plethora of informational pages filled with custom content. In addition to being a highly experienced dentist, Dr. Olson is also a prolific creator of informative video content about both his practice and the field of dentistry in general. Many of the pages on his upgraded website seamlessly integrate this video content in order to give patients an even more engaging browsing experience.
In addition to visual and navigational upgrades, Innovative Dental's refreshed website also includes a blog, an expansive before-and-after gallery, video testimonials, and a convenient and accessible contact request form. Responsive design elements allow for optimal viewing across all devices and screen sizes, including smartphones, tablets, and desktops. The website's dental search engine optimization (SEO) strategy was updated in order to enhance its visibility in Google and other search engines.
For the development of his new responsive website, Dr. Olson collaborated with Rosemont Media, a digital marketing firm specializing in medical and dental website design. Through this collaboration, they were able to create a fresh, modern, and upgraded website that reflects the innovative values and high standard of care offered at Innovative Dental.
About Grant Olson, DDS
Grant Olson, DDS is the founder and director of Innovative Dental, where he and his team—Dr. Megan Westrich, Dr. Taylor Jordan, and Dr. Seth Gray—provide a range of high-quality dental services. As a strong proponent of advanced technologies and techniques, Dr. Olson has the distinction of being one of only 300 CEREC® Mentors in the world, indicating his skill and experience in creating custom dental restorations in as little as one visit. He is also a VIP Diamond Invisalign® Provider due to the high volume of cases he and his team complete each year. Helping people achieve beautiful, confident smiles is something Dr. Olson is very passionate about, and he completes dozens of transformative smile makeovers every year. Additional services offered at Innovative Dental include: surgically-guided dental implants, implant-supported dentures, same-day crowns and other restorations, and medical spa treatments, such as BOTOX® injections.
To learn more about Dr. Olson and Innovative Dental, please visit idspringfield.com and facebook.com/idspringfield.
Contact:
Innovative Dental
3424 S. Culpepper Ct.
Springfield, MO 65804
6401 S. Innovation Ave.
Springfield, MO 65804
(417) 889-4746
Rosemont Media
(800) 491-8623
www.rosemontmedia.com