How to Build Your Email List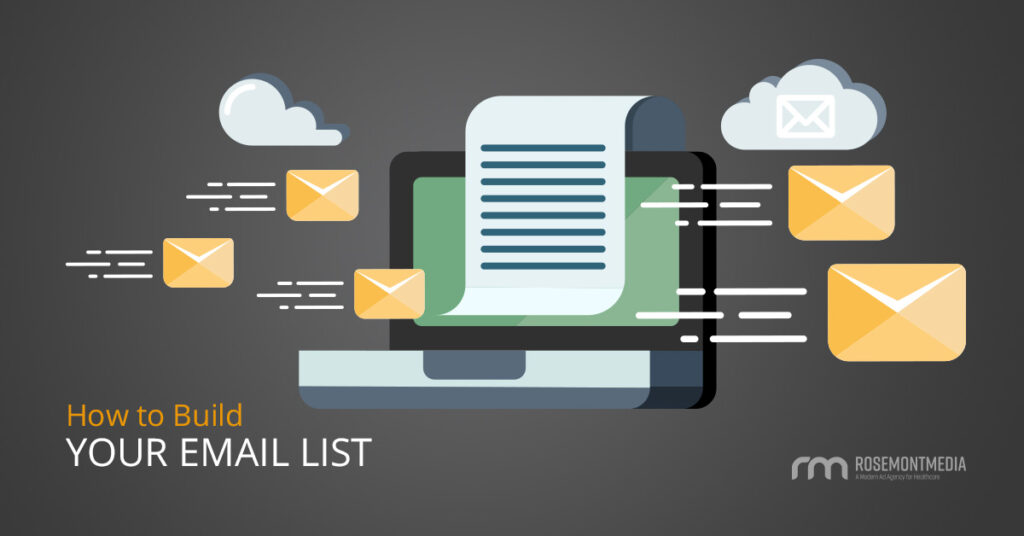 Building a practice email list is just one of the many marketing strategies we have available to us today, and can be among the most effective communication channels for the success of your practice and campaigns. With a concrete email list, your medical or dental practice can create personalized emails targeted to specific demographics, thus keeping patients and prospective patients informed on practice news and specials.
Whether you are building an email list from the ground up or from an existing email list, it can be a challenging task and take some time. However, this time is necessary to have a successful marketing strategy. It's important to not be rash and purchase a pre-made email list, as it can sometimes lead to poor email results and damage your mailing reputation. Having said that, opt-in is everything. This is referred to as "permission-based marketing," when people specifically choose to receive emails from your practice rather than sending emails to unsubscribed recipients that may ultimately be categorized as spam.
The following points can lend some helpful information as you embark on your journey to building a concrete email list.
Optimize Website Display
Patients cannot sign up for your email list if they do not know it exists. That's why opt-in email subscription points should be in plain sight on your website. This could be a pop-up on your homepage or a sidebar form asking visitors to subscribe using their name and email. With this strategy, website visitors are giving you permission (opting-in) to send them emails on practice news and special offers.
Post Engaging Social Media Content
A solid social media presence can have a high impact on the amount of opt-in email subscribers you receive. One of the most effective ways to grow your email list through social media marketing is by promoting special offers. Posting engaging social content about great prices, discounts, or free offers can give your audience the incentive to sign up for your mailing list and/or share your offer with their audience. Sharing isn't only great for email subscribers to engage with your social post, it is also great for getting more people interested in becoming subscribers. Also, some social channels like Facebook provide their users with effective tools designed specifically for businesses to build email lists.
Create Valuable Website Content
By periodically creating blogs, you have the chance to weave in multiple opportunities for patients to join your mailing list. There could be links within your blog's design as well as the blog posts themselves. If your content is truly valuable to your audience, people may sign up to receive future content updates and/or exclusive specials.
Email remains one of our more important communication tools today, as most people check their emails several times a day. It is crucial to the success of your dental or medical marketing strategies to take the time in building your email list rather than purchasing one. The more opt-in points available to your audience, whether it be on your website or social media, the more your email list can grow.
If you are interested in learning how to build a solid email list for the success of your email marketing strategies, please contact Rosemont Media for more information.