Rosemont Media Answers Your Patient Review FAQs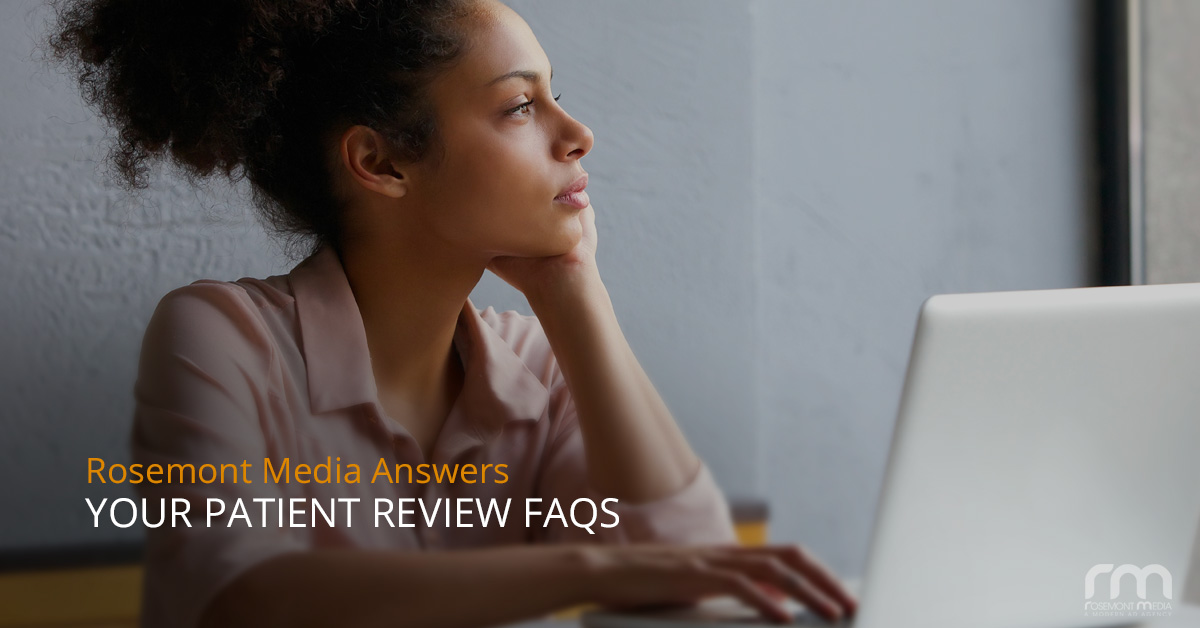 Have you ever shopped for something online? Without any personal interaction with the product, you likely turned to reviews to help determine if the item or service was worth the investment. Whether or not these reviews were the sole influencers of your purchase decision, the opinions of other people likely factored into your choice to click "buy" or move on to another option.
In the same way product reviews play a role in purchasing goods and/or services online, patient reviews are key players in choosing an elective healthcare provider. In fact, more people than ever before are not just using but actually relying on third-party review sites to help determine if a particular dentist or surgeon would be right for them. For this reason, it's essential that you have a strong repertoire of patient reviews spanning many sites, and that you have a full grasp on how to manage both positive and not-so-positive feedback.
To help you gain a better understanding of the wide world of online patient reviews, here are answers to some of the most popular questions asked by healthcare professionals seeking to strengthen their online reputation.
Which Review Sites Are Most Important to Focus on?
When beginning to search for an elective healthcare practitioner, individuals don't always have the name of a particular doctor in mind. Instead, they may key in a more general search term such as "best plastic surgeons las vegas." For non-name-specific searches like this, Google Local, Yelp, and RealSelf tend to garner first page Google rankings, largely due to their constant flow of user-generated content. Since their visibility is so high, you'll want to make certain you have several reviews posted to these sites for prospective patients to see.
In the event a prospective patient does search for you by name, you'll want to be covered on several other review sites, as well. The best sites to accumulate reviews for name-specific searches include Facebook, Vitals, RateMDs, and HealthGrades, so make sure you are directing patients to these outlets to increase the number of reviews visitors are able to read.
You'll want to keep in mind the majority of these prominent review sites require user profiles to maintain authenticity. Develop a system in your practice to talk to patients about where they are active, and direct them to their preferred sites to leave a review. (More about review generation below.)
Should I Respond to Patient Reviews?
Though tempting, it's typically best to just leave reviews alone – yes, even the positive ones. Why? First and foremost, you could potentially be committing a HIPAA violation by responding at all – either through the content of your response, or simply by validating that the person was a patient. Secondly, in the case of a negative review, you may unwittingly bring more attention to the adverse assessment. Depending on a particular site's parameters, the negative review could possibly rocket to the most visible section of the page after your response, making it one of the first perceptions prospective patients have of your practice.
All that being said, we'll reiterate: In the vast majority of instances, the most sound advice is to not respond to reviews at all.
Can I Remove Negative Reviews?
Okay, so if you can't respond to negative reviews to defend your honor, just remove them, right? Not so fast – you may not even want to. Truth be told, some studies show that a minor negative review may actually magnify the effect of prior positive reviews. This could be because a small gripe – perhaps about limited parking availability or something similar in nature – tends to amplify the positives of favorable reviews already read by the viewer.
In certain cases, a negative review may be advantageous in yet another way. While some disapproving comments may be unfounded, there are instances in which valid points are made about areas in which you can improve the level of care you provide, particularly if these concerns have been brought to light several times. If this occurs, you should view these reviews as useful feedback for your practice.
Now, there are certainly some occasions when a negative review can be removed, most notably when it includes defamatory information, does not comply with the review site's guidelines, and/or contains indecent or menacing content. Unfortunately, these instances are pretty rare. As a result (and, yes, we know it's tough), the best course of action is still generally going to be to take no action at all.
How Do I Get More Reviews?
While services that crank out automated reviews may sound appealing, they come with considerable drawbacks, including having your reviews disappear if you do not continue to pay for the service. Long-lasting, authentic patient reviews take persistence and work to develop.
The first thing you can do to generate more reviews is develop a system in your practice to ask for them. Many of your happiest patients may not even think about posting an online review. While you should never provide incentives for individuals to write good reviews, you must prompt patients who have had positive experiences to talk about them online. Ideas on how you can tastefully ask for reviews include:
Sending patients an email with links to your review profiles, making it simple for them to select their review platform of choice.
Posting a sign at your front desk to display your social media and review sites to let your patients know they can connect online.
Most importantly, your whole team should be working together to deliver an excellent experience, go above and beyond, and do everything in your power to make sure patients walk away completely satisfied.
When In Doubt, Ask for Help
You don't have to go at it alone. There are many resources available to help you campaign for and promote positive reviews from your patients, allowing you to spend more time on providing the quality of care that yields good reviews in the first place. Once such resource is called the Patient Review Generator™, and it's proudly offered by our team at Rosemont Media. With this innovative tool, you can more easily obtain reviews on the most trusted and highly accessed review sites on the Internet.
For answers to more questions about online patient reviews, or if you'd like to learn how the Patient Review Generator™ can benefit your elective healthcare practice, please don't hesitate to contact Rosemont Media today.