Content Marketing: Quality vs. Quantity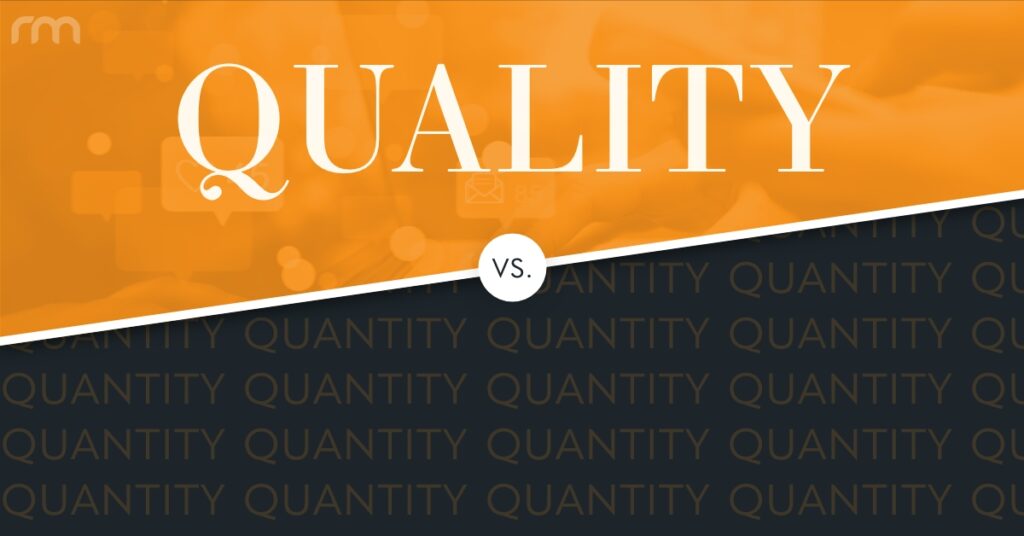 You probably already know that Google values new content, so it's clear that keeping your website relevant through new blogs and pages (as well as updating content on your existing pages) is an important content marketing strategy. However, it brings to mind the age-old debate of quality vs. quantity.
There's no doubt about it — consistently adding fresh content to your site can help improve your rankings, but simply posting a new blog every week or so isn't necessarily the most successful (or thoughtful) content marketing strategy. Ultimately, the answer is to find a balance between quality and quantity. To achieve this, you should focus on your site's needs, create a plan, and develop original, informative content.
Initiating a Strategy for Your Content
When identifying pages that need improvements, planning blog topics, and deciding what pages to add, a detailed content evaluation can ensure all content additions are made with your best interests in mind, rather than adding content for the sake of adding content. This requires a thorough review to determine where help is needed, but should also incorporate content that is focused on terms for which you wish to rank. For most doctors and dentists, this means entrusting an experienced marketing team to assess website rankings and determine the best course of action.
Planning a Content Calendar
Once you have an idea of what blogs, pages, and content expansions will be best, you should try to spread the projects out over time. If your site isn't performing as well as you'd like, you might want to consider a more aggressive content plan. A carefully laid out editorial calendar can help you maintain a consistent flow of new content so you can avoid adding too much at once and/or neglecting your site for too long. You don't have to follow it perfectly, but sticking to it as closely as possible should allow you to organize your content projects in a deliberate way that can ideally benefit your website performance.
Creating High-Quality, Original Content
After determining a strategic plan and getting an idea of how frequently you should be adding to your site, it's time to create your planned content. If you choose to work with a marketing company (as many healthcare professionals do), be sure your writing team is creating original, custom content. If they use "cookie-cutter" content that has already been used for a multitude of other professionals in your industry, your site is unlikely to rank well. Google looks for quality content, among other things, so updating your site with content that is new and specific to your practice is key.
Get Started With Rosemont Media
As a busy practice owner, you're unlikely to have time to follow all these steps on a regular basis, so if you want to balance quality with quantity in your content marketing strategy, it's best to find a marketing company you can trust. Rosemont Media specializes in healthcare marketing strategies and has a strong, experienced team of experts who can help you improve (and maintain!) your site's visibility in search engine results. Contact us today to learn more.