Re-Opening After Shutdown: How to Demonstrate Practice Safety & Readiness on Social Media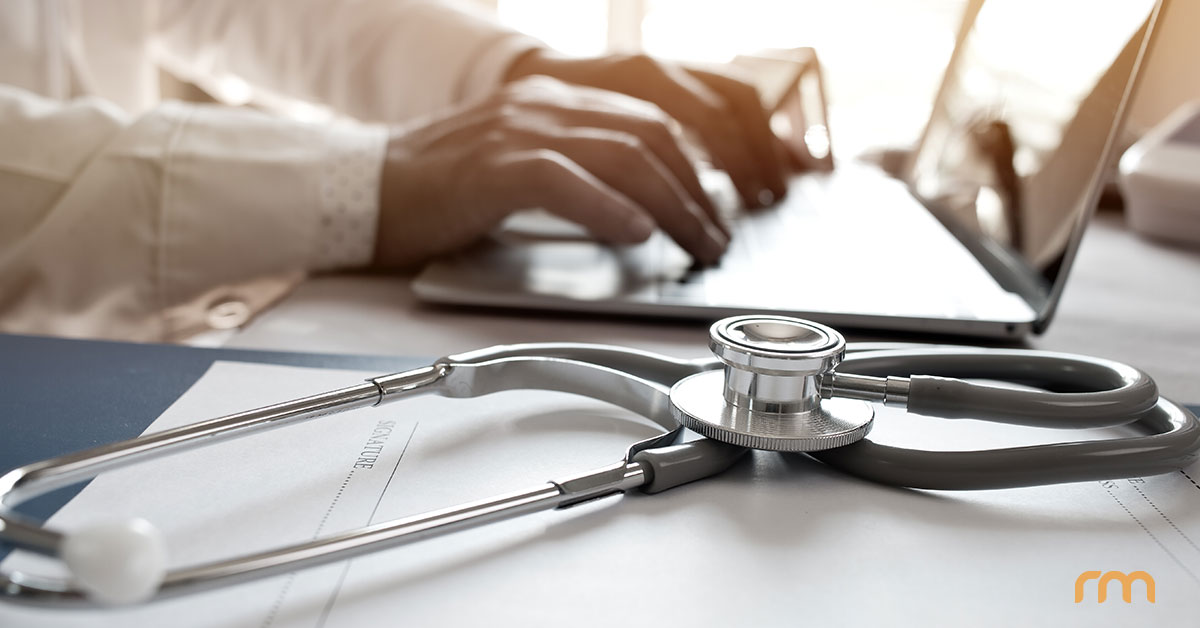 Re-opening your elective healthcare practice following the COVID-19 shutdown can benefit significantly from effective use of your online presence. While a large portion of patients are thrilled at the prospect of returning to see their favorite doctors and dentists, it's important to recognize that many individuals may also feel apprehension about whether or not practices are enacting adequate safety protocols to prevent the spread of coronavirus. Our online marketing specialists and social media experts at Rosemont Media are working collaboratively with our elective healthcare clients to develop comprehensive re-opening strategies that help demonstrate practice preparedness, showcase new safety measures, familiarize patients with new visit requirements, and warmly welcome patients back for care.
Social Spotlight on Parva Plastic Surgery
One of the most powerful and personal avenues for connecting with your patients about re-opening is through social media. While targeted content marketing (blogs, press releases, and informational website pop-ups) is extremely effective and should be included in your re-opening plan, we are finding that in the social media realm, our clients' customized posts and videos are having a powerful positive impact. One client in particular, Parva Plastic Surgery, is a shining example of how to maximize social media efforts during the re-opening phase.
Dr. Behzad Parva and his team have created some brief, high-quality videos showcasing how the practice is preparing for the safe return of patients. The first video highlights the practice's heightened sanitation efforts to reassure patients they are doing everything possible to ensure a clean, safe environment. The feel of the video is light and welcoming, and each team member is briefly introduced while they clean different areas of the office wearing the appropriate protective gear. Although sanitizing an office is serious work, the message of the video is delivered with a palpable sense of joy and excitement about re-opening and reuniting with patients: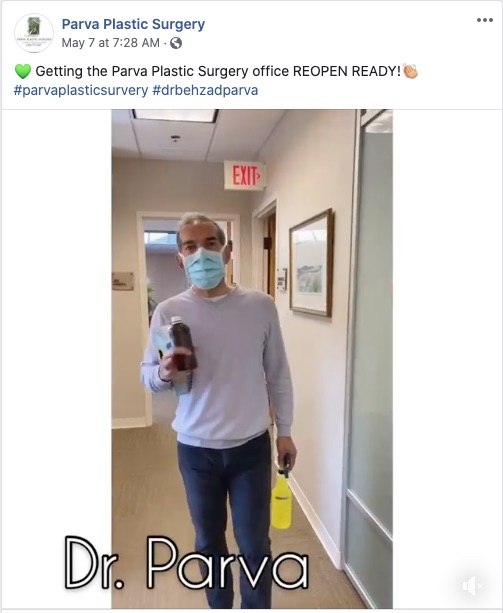 Their most recent video walks viewers through the office's new visit requirements, step-by-step. The tone while introducing patients to the enhanced safety protocols they can expect to encounter during the course of an appointment is friendly, informational, and welcoming. This video helps to ensure patients are prepared for their visit and understand that the safety is Parva Plastic Surgery's top priority: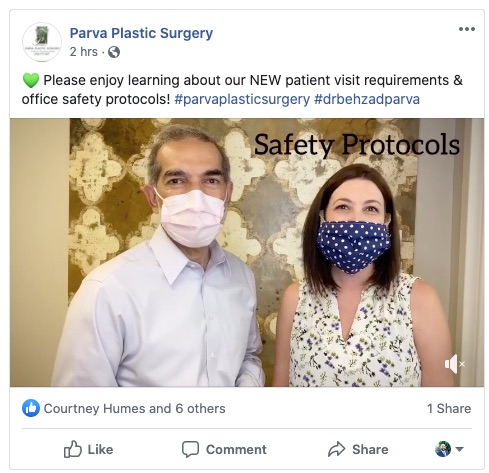 In addition to these videos, Parva Plastic Surgery has also created branded posts that announce their re-opening and feature new personal protective equipment (PPE) provided by members of the community.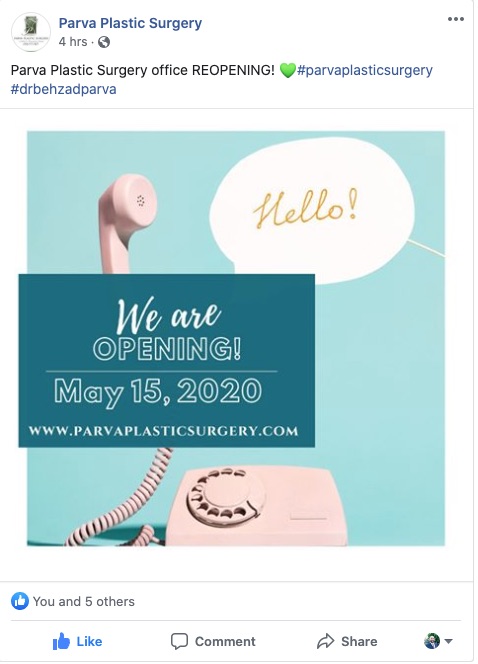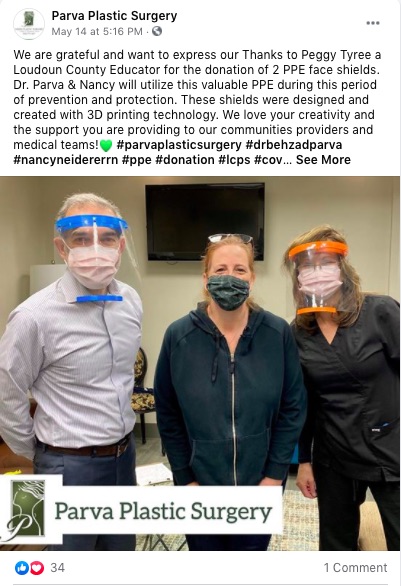 While these social posts tackle serious topics and deliver lifesaving messages, they have been crafted in a lighthearted way that emphasizes the reassuring message "you are safe and welcome here".
Check out some additional examples from other RM clients, including Designer Smiles and The LoVerme Center for Plastic Surgery:
A re-opening video message directly from Dr. Ann Haggard to her Designer Smiles patients: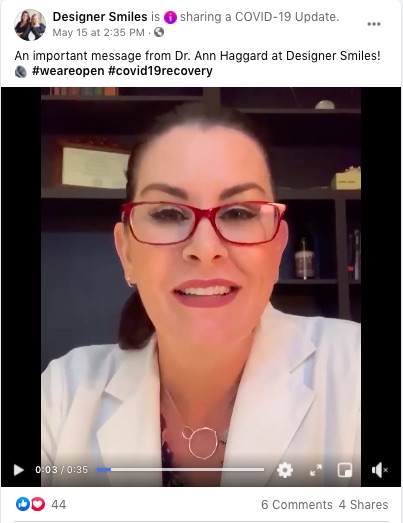 Dr. Paul J. LoVerme takes viewers on a walking tour of his office while reviewing new safety protocols patients can expect to encounter during visits: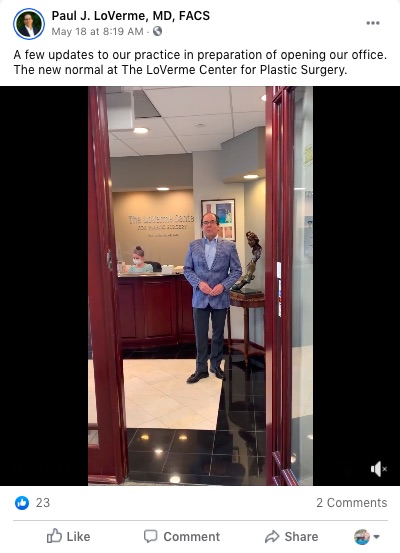 A welcome-back post reminding patients that the team at Designer Smiles is prioritizing safety: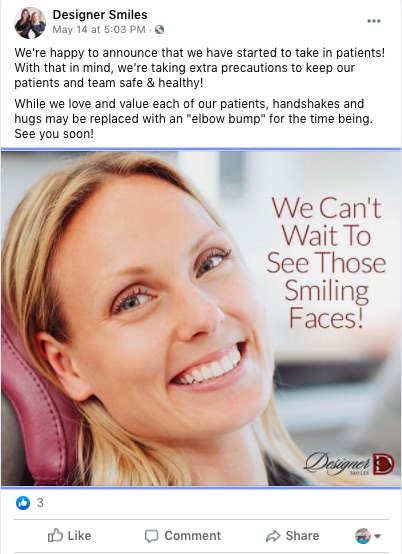 Re-Opening Soon? The RM Team Can Help
The coronavirus pandemic has changed the way we interact with the world and each other, and this new phase of existence requires a fresh, innovative perspective on utilizing marketing tools. If you would like assistance navigating the path to re-opening your elective healthcare practice, our website marketing experts and social media specialists at Rosemont Media are ready to help. Let our team develop a re-opening focused marketing campaign aimed at easing patients' concerns with a hopeful, welcoming message of safe connection. We are excited to get you back to the business of improving patients' lives—contact our knowledgeable representatives to get started today!