Chicago Bariatric Surgeons Launch New Design for Practice Website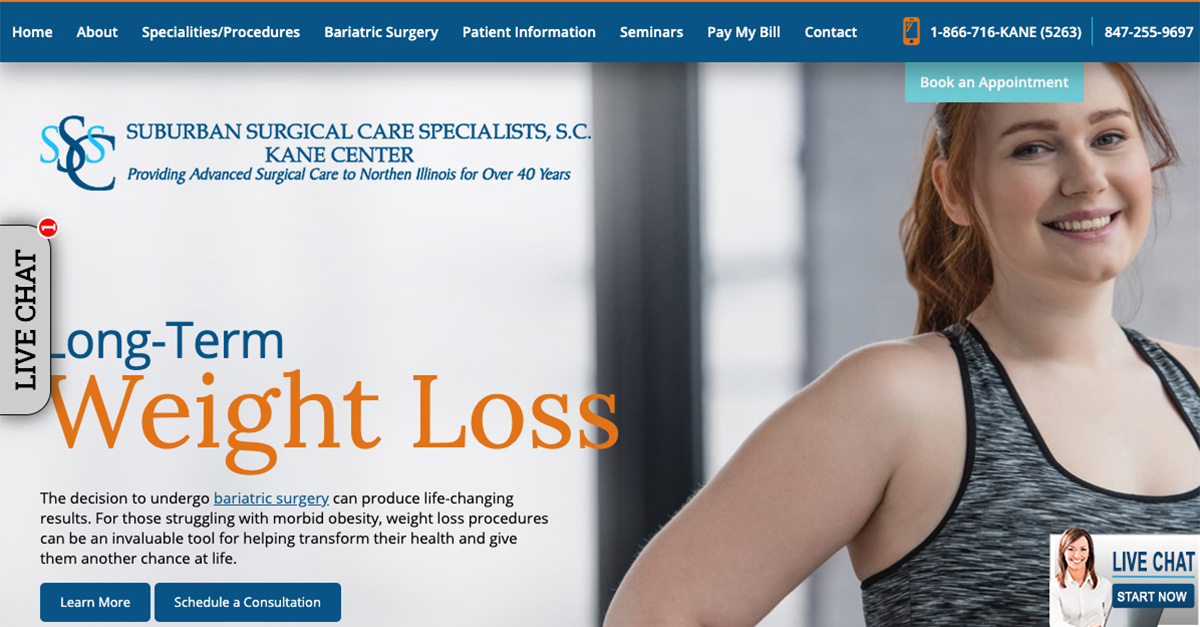 The doctors at Suburban Surgical Care Specialists/Kane Center have unveiled a new look for their website, providing a more user-friendly layout and modern design.
Chicago, IL — Suburban Surgical Care Specialists/Kane Center, a Chicago bariatric surgery practice, has revealed the launch of its new website design. With this upgrade, the physicians at SSCS were able to enhance their existing website with modern design elements and a visually appealing layout. As a responsive website with a newly organized structure, the doctors say visitors can conveniently find a wealth of information about the expansive list of procedures in which they specialize.
As part of its makeover, the SSCS website was outfitted with the following components as part of its innovative design:
Responsive design that automatically resizes the page layout to the screen dimensions of the Internet device in use.
Search engine optimization (SEO) to ensure online users can easily locate the practice within search engine results.
Custom content that was written to highlight the specific services, techniques, and products offered at the practice.
Photo gallery composed of before-and-after photos of patients who have undergone weight loss surgery and other procedures, such as vein treatment.
Blog with up-to-date news about the practice, as well as informational posts about procedures offered.
The SSCS team worked closely with medical marketing firm Rosemont Media for the creation of its new website design. The physicians believe the new look better reflects the quality of care they provide, and they hope it serves as an educational tool for current and prospective patients.
About Suburban Surgical Care Specialists/Kane Center
Suburban Surgical Care Specialists/Kane Center is a Chicago-based practice that specializes in bariatric surgery—including LAP-BAND®, gastric bypass, and duodenal switch techniques—as well as a variety of other procedures. The team of physicians is composed of Dr. James M. Kane, Jr., Dr. Peter C. Rantis, Jr., Dr. Paul J. Guske, and Dr. Jonathan W. Wallace—all of whom are certified by the American Board of Surgery and are Fellows of the American Society of Metabolic and Bariatric Surgery. With their dedication to patient safety and overall care, SSCS has been named a Designated Center for Bariatric Surgery by Blue Cross Blue Shield of Illinois. The physicians are available for interview upon request.
The practice can be found online at suburbansurgicalcare.com and facebook.com/pages/Suburban-Surgical-Care-Specialists/112793022140308.
Contact:
Suburban Surgical Care Specialists / Kane Center
Prairie Pointe Medical:
4885 Hoffman Blvd.
#400
Hoffman Estates, IL 60192
Eberle Building:
800 Biesterfield Road
#555
Elk Grove Village, IL 60007
(866) 716-5263
Rosemont Media
(858) 200-0044
www.rosemontmedia.com