Tampa Plastic Surgeon Presents Contemporary New Website with Responsive Design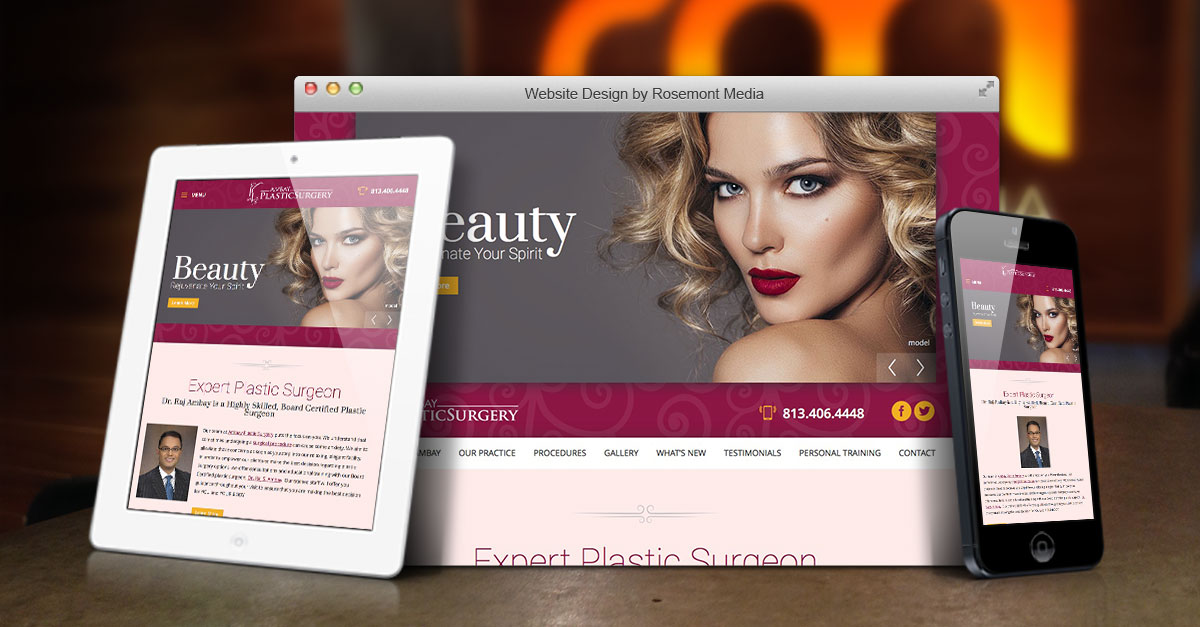 Dr. Raj Ambay reveals an advanced new website for his plastic surgery practice, which beautifully displays the many aesthetic services he provides for his patients in an elegant, interactive layout.
Tampa, FL – Dr. Raj Ambay has proudly unveiled a stunningly innovative new website that was  custom developed for his practice, Ambay Plastic Surgery. In partnership with plastic surgery web design firm Rosemont Media, the Tampa plastic surgeon has created a comprehensive, interactive resource with a responsive design that delivers the most current information about his practice and the vast array of services he provides. Complete with strikingly beautiful images that reflect the essence of his work, Dr. Ambay's website exudes a warm and inviting feel that welcomes patients to explore all that Ambay Plastic Surgery has to offer.
As a double board-certified plastic surgeon, Dr. Ambay performs the full range of both surgical and non-surgical enhancements, including tummy tuck, fat transfer, and breast lift. In presenting these services on the website, it was important to Dr. Ambay that patients could easily find the specific information they were looking for. He explains that the thoughtfully designed homepage clearly lays out each section of the website, highlighting different categories of treatments and procedures with image-reinforced buttons. Similarly, he notes that the intuitive navigation bar and drop-down menus make browsing the entirety of the website a breeze. The custom content of the website was planned and written to be accessible and easily understood by the visitor, helping prospective patients to become more knowledgeable about and comfortable with Dr. Ambay, his practice, and his plastic surgery services.
In addition to procedural information, Dr. Ambay's website features a wealth of resources that include:
Before-and-after photo gallery

Comprehensive biography for Dr. Ambay

Educational blog

Patient testimonials

Personal training services information

Online patient forms

Virtual consultation

Video library

Information on specials and financing
Ultimately, Dr. Ambay wanted to create a website experience that was a virtual extension of his practice to educate patients and attract new visitors looking for high-quality aesthetic enhancement in a luxurious, state-of-the-art environment. He hopes that his new website will be an integral resource for anyone interested in learning more about the Ambay Plastic Surgery experience.
About Raj Ambay, MD
Raj Ambay, MD is a leading practitioner and respected educator in the field of plastic surgery. He completed his undergraduate education at Harvard University and went on to earn his medical degree from Drexel University College of Medicine. After medical school, Dr. Ambay completed further training at such world renowned institutions as the Mayo Clinic, M.D. Anderson Cancer Center, the National Institutes of Health, Northwestern University, and the University of Wisconsin-Madison. Dr. Ambay is board-certified by the American Board of Plastic Surgery and is a multifaceted surgeon trained in general and trauma surgery, plastic surgery, oral surgery, and dentistry. A former Lieutenant Colonel in the United States Army Reserve, Dr. Ambay is a proud veteran that served in both Iraq and Afghanistan as a member of a specialized surgical team. Dr. Ambay is available for interview upon request.
For more information, visit ambayplasticsurgery.com.