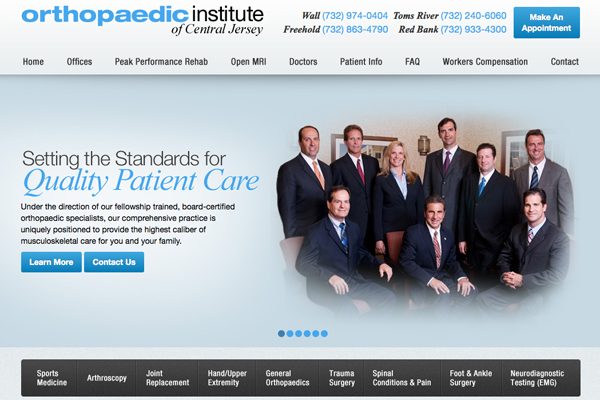 Project Details
Launch Date:
June 2012
Page Count:
48
Services Overview
New Design, CMS, JavaScript Slide Show, and Blog
Visit Website
Categories
John Tozzi, MD and Clint Ferenz, MD, founders of the Orthopaedic Institute, teamed with Rosemont Media to create a custom medical website design that parallels the goals of their Central Jersey practice. The site showcases an aesthetically-pleasing theme throughout, accented by features such as patient education videos, doctor profiles, interactive media, and more. The multiple drop-down menus allow for easy navigation between comprehensive treatment and procedural pages so patients can be fully informed to make the best decision possible for their needs. Rooted in a user-friendly, state-of-the-art design, the Orthopaedic Institute's site is an all-inclusive educational tool for those seeking orthopaedic surgery in New Jersey.
Drs. Tozzi and Ferenz were determined to develop a comprehensive resource to share their knowledge and expertise with both current and prospective patients. For this reason, the customized website also contains a blog where the community can stay up-to-date on the latest trends in sports medicine, as well as learn about the newest treatments and procedures the Orthopaedic Institute has to offer. The blog contains convenient tabs where patients can focus on a topic by choosing from different categories or specialties such as arthroscopy or joint replacement.
As the importance of a strong online presence continues to grow, our team has pursued the latest strategies in search engine optimization. With this invaluable tool, Drs. Tozzi and Ferenz are able to monitor their site's traffic and build a strong online presence in the New Jersey orthopaedic surgery market.
To take an in-depth look at the kind of customized website Rosemont Media can build for you, visit www.orthoinstitute.com.