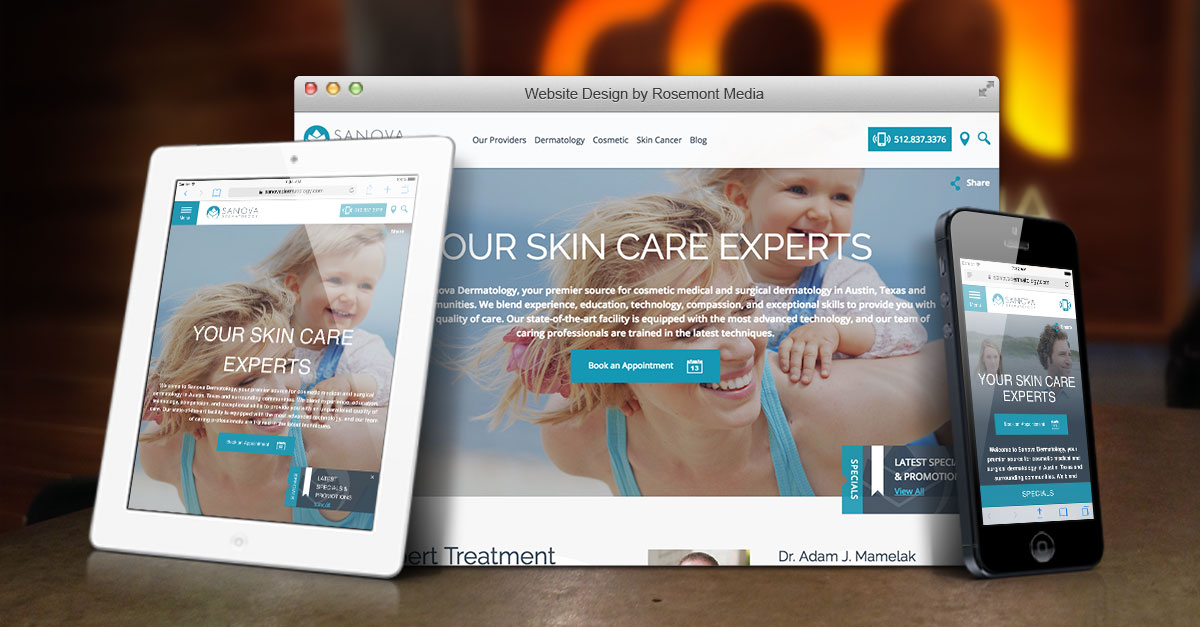 Project Details:
Launch Date:
May 2016
Page Count:
110
Services Overview:
Custom Responsive Design, SEO, CMS, Custom Content and Blog
Compatibility:
Desktop, Tablet, Phone
Visit Website:
Categories:
In partnership with Rosemont Media, Sanova Dermatology launched a state-of-the-art, responsive website intended to serve as a comprehensive resource for individuals seeking medical and/or cosmetic dermatologic care. In addition to a soothing color-scheme and pleasing imagery, the site is equipped with a number of unique features, including a geographically tailored SEO strategy, an "A–Z" directory of skin concerns/conditions, an adaptable navigational bar that switches from vertical to horizontal positioning based on screen size, and on-page share functionality that allows visitors to send pages to friends and/or colleagues via social media or email. The website also contains "sticky videos" that enable viewers to continue watching videos as they scroll up and down the page, and the homepage hosts a large section of featured blog posts that aims to educate current and prospective patients on the latest news, procedures, and helpful information in the field of dermatology.
To take a look at the type of personalized website Rosemont Media can design, develop, and manage for your practice, please visit www.sanovadermatology.com.