Industry Jargon Explained: Black Hat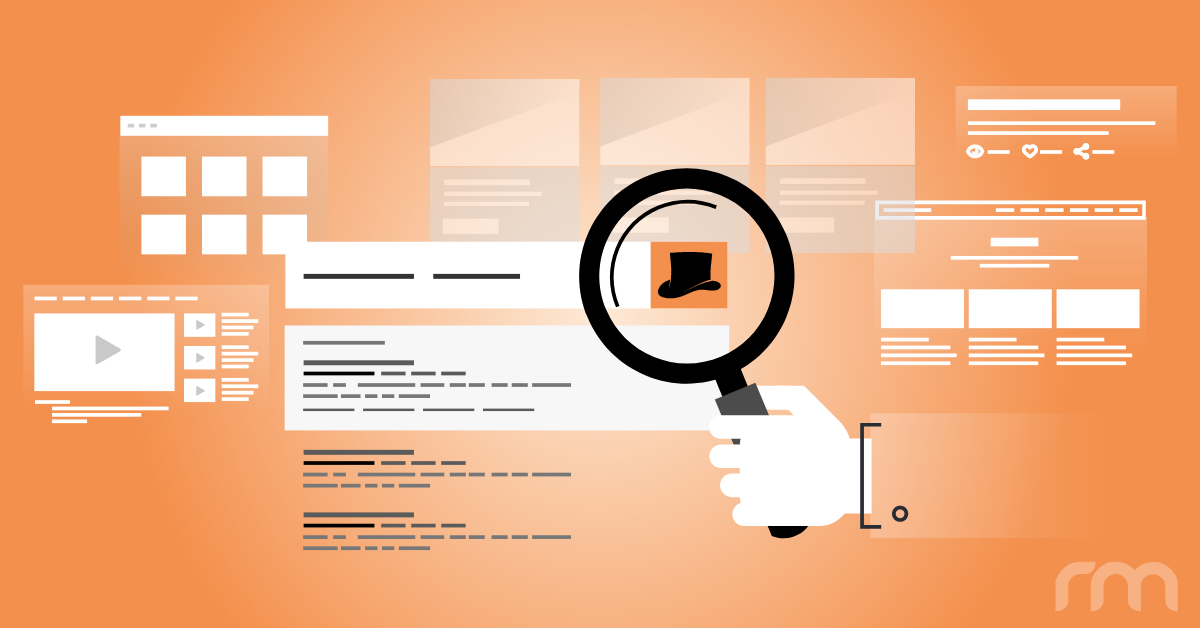 We get it – when you don't have time to habitually familiarize yourself with Internet marketing lingo in between patient visits, website jargon can be downright confusing. To help you better understand various industry terms that pertain to your online marketing strategy, we periodically define commonly-used terminology on our blog. Today's post covers the meaning of "black hat."
What does "black hat" mean?
In regard to search engine optimization (SEO), "black hat" refers to the employment of illegitimate strategies that essentially trick Google and other search engines into improving a website's rankings. Similarly, black hat social media marketing (SMM) alludes to using unethical tactics that defy the guidelines set in place by Facebook, Instagram, Twitter, and other social media platforms. Essentially, the term "black hat" can apply to most techniques that focus solely on gaining a competitive edge in search engines and/or social media services as opposed to enhancing the experience of the actual user (or in your case, the patient).
What are some examples of black hat SEO and SMM tactics?
Though some black hat strategies may produce positive SEO and SMM results in the short-run, the use of such tactics will eventually lead to penalization, and sometimes even Google Manual Action. Here are some examples of black hat techniques to avoid:
SEO
Unnaturally stuffing your content with an excessive amount of keywords
Paying someone to link to your website
Linking in comment threads of online reviews, blog posts, etc.
Adding light pages of content containing little valuable information in an attempt to attract visitors searching for a particular word or phrase (sometimes referred to as clickbait)
Using duplicate content on one or more pages of your website
SMM
Purchasing fake fans (whether it's "likes" and/or "friends" on Facebook, "followers" on Instagram, etc.)
Creating an illegitimate profile to "gather intel" about a competitor
Posting fake comments/reviews on your own page and/or a competitor's page
Utilizing an automated service to follow and/or unfollow other social media accounts
Sharing unsecure links through your social media profile
How do I know if I'm employing black hat strategies?
When it comes to implementing a new (or evaluating a current) SEO or SMM tactic, ask yourself these questions: What's the purpose of what I'm doing? Am I strictly aiming to please the search engines and/or social media sites, or is my goal to enhance user experience and facilitate patient education about the services I offer? The answer to these inquiries should give you a general idea of whether or not your strategies could be considered black hat.
What can I do if I lose ranking because of black hat tactics?
If you've recently noticed a drop in rankings, it may be Google's response to black hat strategies you have been using. To recover from this dip in positioning, it is important to eliminate any black hat practices from your online marketing plan and swap them for best practices. If you still do not see a boost in rankings after a while (or it seems your site has disappeared from Google altogether), it is possible there are other issues that need to be addressed, as well. In these cases, it is best to consult with an experienced SEO marketing professional to assess the situation and provide helpful advice. Furthermore, these experts often provide services to monitor and maintain your website's rankings, ensuring your practice remains visible in local searches and stands out among your competition.
Rosemont Media Can Help!
If you don't have clear answers to the questions above, or if you simply want the help of a professional to ensure your SEO and SMM strategies remain "white hat," Rosemont Media can help. From custom website design to proactive content marketing to personalized social media marketing, our knowledgeable team employs only the latest, most ethical strategies intended to increase our clients' website rankings while expanding their online reach.
To learn more about how we can help your medical or dental practice stay abreast of the ever-changing world of Internet marketing, please feel free to contact us today.
Editor's note: The original version of this post was published on June 23, 2015.