What Happened to the Google 7-Pack?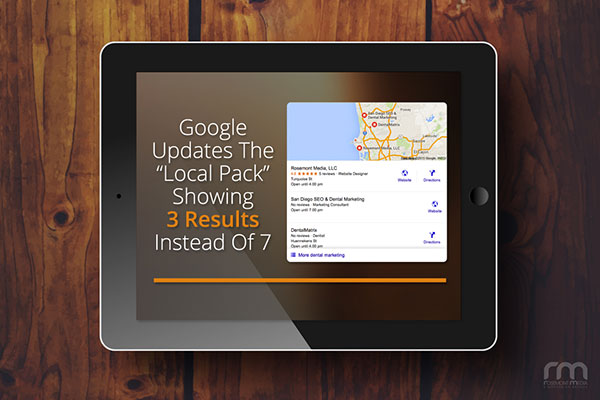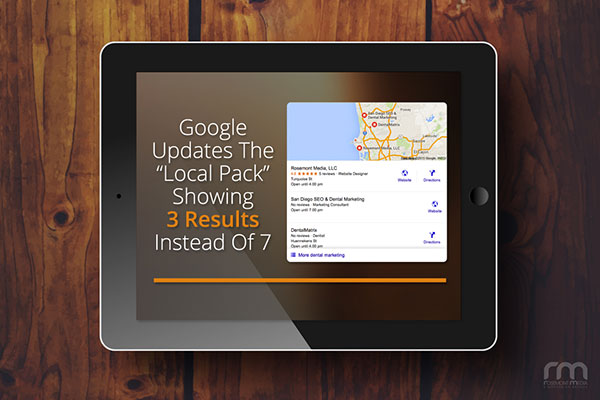 Remember when you used to see seven featured local listings in Google search results? You may have recently noticed that the list has become exponentially shorter — the "7-Pack," as it was called, is now the "3-Pack." The 3-Pack is part of Google My Business, a free service from Google that also incorporates Google Maps and Google+ reviews in an effort to help improve the user experience when searching for a specific type of business.
Behold! The Google 3-Pack:
What does this mean for your practice?
Well, obviously with the 7-Pack downsizing to a mere 3-Pack, the competition for those top spots just got a bit more fierce. The 3-Pack offers prime real estate on both desktop and mobile search results, and the superior visibility can often lead to improved business. If your medical or dental practice is already in one of the top three spots, don't relax just yet. Your competitors are likely to fight harder than ever to be highlighted in the 3-Pack, so holding onto your position may not be as easy as it used to.
What can be done to get into the 3-Pack?
Unfortunately, since the coveted spots are subject to Google's algorithm, positioning in the 3-Pack is ever-changing and cannot be guaranteed. However, there are steps you can take to improve your chances of indexing in this new ultra-competitive (yet free!) real estate located underneath the AdWords results:
Remain fresh and relevant by maintaining a strong content marketing plan. With new, informational website content and interesting blogs, you can attract more visitors to your website. Sites that are frequently visited should become more relevant, and will likely benefit most from this update.
Encourage your patients to leave reviews for your practice on Google+, but do not solicit! Rosemont Media's resident Google guru, John Forrest, says reviews on Google+ are sure to play a very important role in deciding which listings are featured in the 3-Pack, but it's still only one of a myriad of ranking factors that Google takes into consideration. Offering rewards to your patients in return for a positive review can invalidate the authenticity of your practice's reviews. Additionally, Google has become progressively more hip to pinpointing spammy reviews and people trying to out-game the system. Bottom line: there is no substitute for the positive, natural, descriptive, heart-felt review that a patient chooses to submit on their own time and through their own means.
Post on Google+. Posting regularly on your Google+ Business Page encourages engagement, which can potentially expand your reach. Over time, the culmination of enhanced user engagement and page reach can make your Google+ Business Page more relevant in Google's eyes. The more relevant your page, the increased likelihood that your placement will show in search results, Google Maps, and Google+.
Why did Google make this change?
What can we surmise from Google's decision to remove four free local spots from the top of the search results page? Is this simply a move to monetize more of the SERPs? Did half of the free parking lot just suddenly become valet? Is Google planning on adding more paid positions to its traditional AdWords 3-Pack at the very top of the page? Is this a temporary move or yet another Google test where we could see the local 7-Pack restored in weeks or months from now? Only time will tell…
How can your practice sustain visibility?
To maintain visibility in search results, RM Director of Medical Consulting Brian Lyle recommends focusing on your organic Google placement through active content marketing and ethical link building. If you have fallen off the Google Maps listings, he suggests possibly starting a Google AdWords campaign to make up for the lost traffic. He says the only way to guarantee top placement on Google's first page is to purchase ads.
Contact Rosemont Media
For customized, expert advice on how you can boost your dental or medical practice's search engine rankings and increase the likelihood of being selected for the 3-Pack, please contact us today.