What Is the Google Local Pack?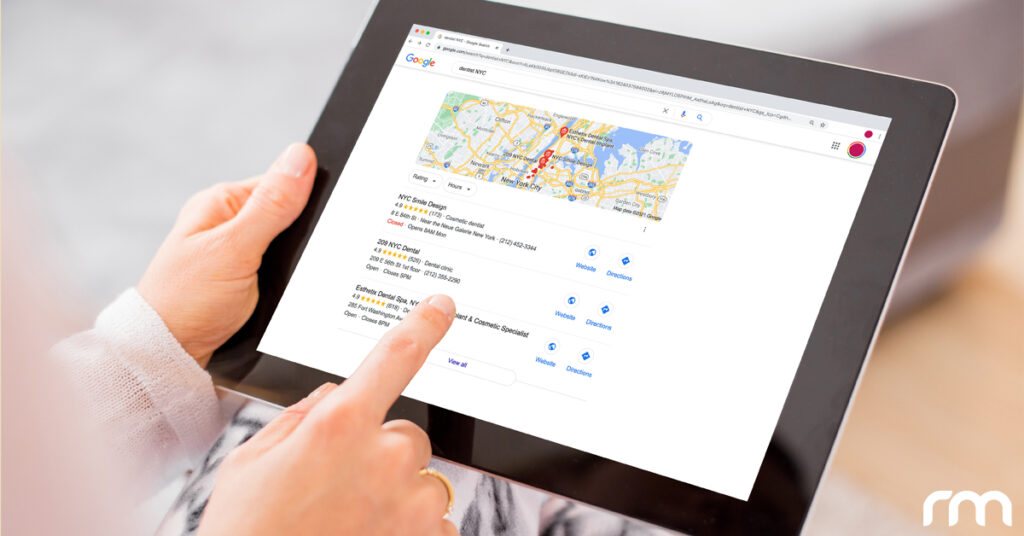 When someone uses Google with local intent — such as searching for "plastic surgeon near me" — they'll most likely see a convenient display of listings before scrolling down to the organic results. Known as the Google Local Pack/Finder, this list is typically a map preview followed by a collection of three local businesses and often one or more paid ads.
These listings are part of Google My Business, a free service from Google that also incorporates Google Maps and Google Reviews to help improve the user experience when searching for a specific type of business. The 3-Pack offers prime real estate on both desktop and mobile search results, and the superior visibility can often lead to improved business.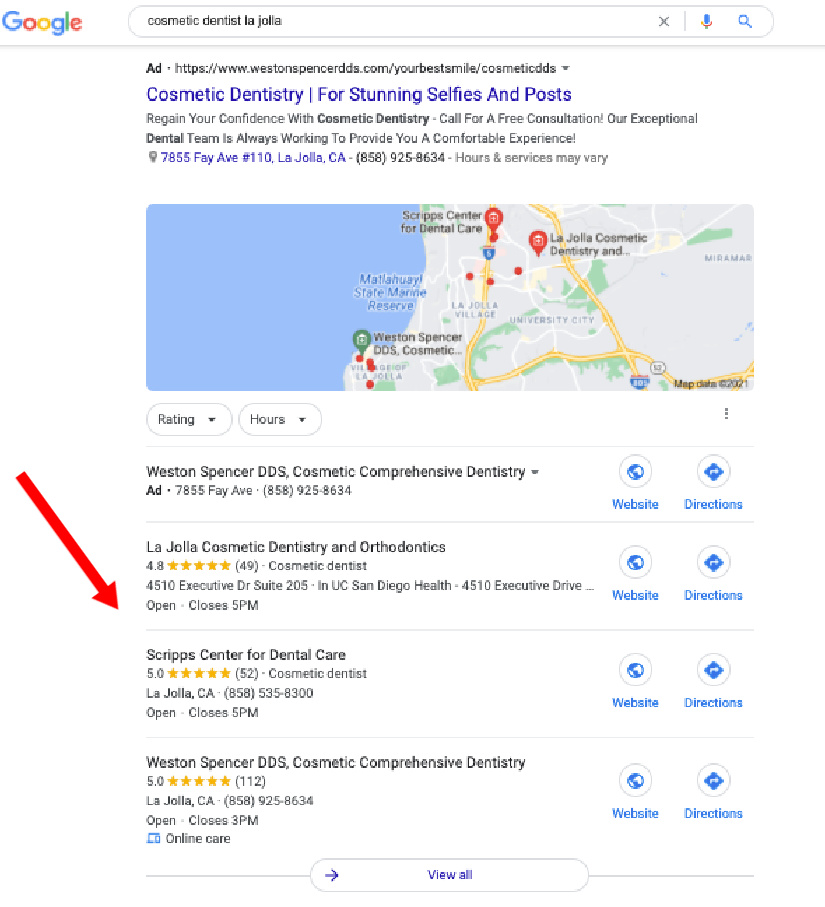 What Happened to the Google 7-Pack?
In the past, seven local listings were featured in Google search results, but in 2015, this list became exponentially shorter — the "7-Pack," as it was called, turned into the "3-Pack." With the 7-Pack downsizing to a mere 3-Pack, the competition for those top spots got a bit more fierce. If your medical or dental practice is already in one of the top three spots, don't relax just yet. Your competitors are likely to fight harder than ever to be highlighted in the 3-Pack, so holding onto your position may not be as easy as it used to be.
How Can I Get Into the Google 3-Pack?
Since the coveted spots in the Google Local Pack are subject to its algorithm, positioning in the 3-Pack is ever-changing and cannot be guaranteed. However, there are steps you can take to improve your chances of indexing in this ultra-competitive (yet free!) real estate located underneath the Google Ads results. See below for some of the top factors you should be aware of:
Verify and manage your medical or dental practice in Google My Business. By setting up your GMB profile, you can control the information available about your practice, expand it to provide even more helpful details, and ultimately increase your chance of showing up in local search features like the Google Local 3-Pack. According to a survey conducted by Moz in 2018, GMB signals are the most important ranking factor for the Local 3-Pack.
Optimize your linking strategy by establishing quality link building, removing low-quality links, and staying on top of your link profile. This also includes citation management to reap the rewards of having business listings in relevant directories.
Encourage your patients to leave online reviews for your practice through Google, but do not solicit! Rosemont Media's resident Google guru, John Forrest, says reviews on Google are sure to play a very important role in deciding which listings are featured in the 3-Pack, but it's still only one of a myriad of ranking factors that Google takes into consideration. Offering rewards to your patients in return for a positive review can invalidate the authenticity of your practice's reviews. Additionally, Google has become progressively more hip to pinpointing spammy reviews and people trying to out-game the system. Bottom line: there is no substitute for the positive, natural, descriptive, heart-felt review that a patient chooses to submit on their own time and through their own means.
Remain fresh and relevant by maintaining a strong content marketing plan. With new, informational website content, interesting blogs, and effective SEO practices, you can attract more visitors to your website. Sites with higher click-through-rates and other positive behavior signals will likely benefit most from the Local Pack.
How Can My Practice Stay in the Google Local Pack?
To maintain visibility in local search results, focus on your organic Google placement through managing your Google My Business profile, active content marketing, and ethical link building. If you have fallen out of local listings, you may want to pursue a Google Ads campaign, which can help you regain placement on Google's first page while working on your organic ranking factors.
For customized, expert advice on how you can boost your dental or medical practice's search engine rankings and increase the likelihood of being selected for the 3-Pack, please contact us today.
Editor's Note: The original version of this post was published by Cassie Fowler on September 22, 2015.