Plastic Surgery-Related Searches Soar to Unprecedented Levels Amid Global Pandemic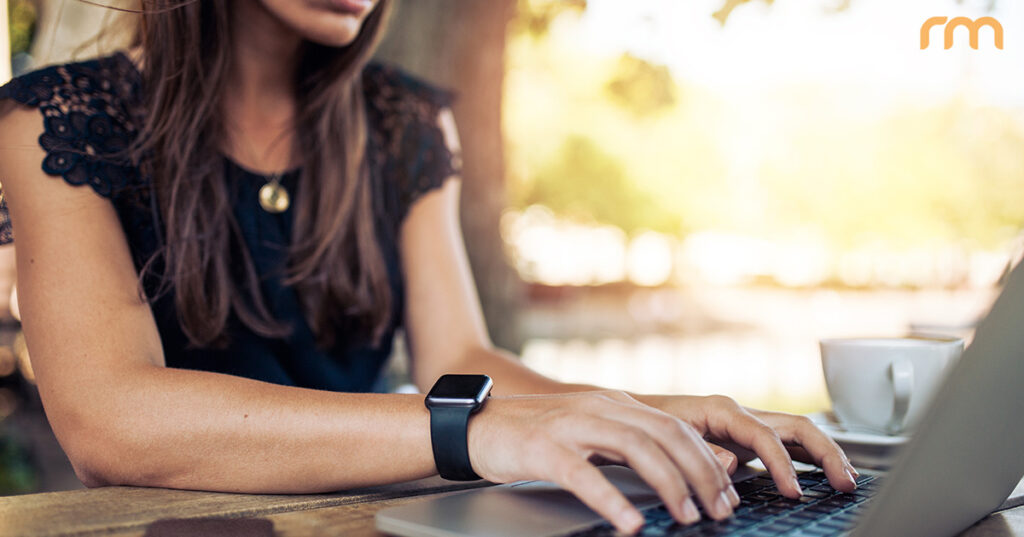 Phase One of Pandemic: Mass Hysteria
Let's take a step back to January 1st, 2020 when things were good—really good. At Rosemont Media, we were excited about trending towards another fruitful year and gearing up our resources. We were also noticing that plastic surgery and all cosmetic procedure interests were at an all-time high. The economy was purring along, and consumer confidence was significantly heightened, as well.
Then March 2020 hit; the world came to a sudden stop and the bottom fell out. Offices and practice doors shut, and elective surgeries were suspended indefinitely. In California, we were in complete lockdown and a state of emergency. I am not sure about you, but my head was spinning, and it was really hard for me to get my arms around the problem at hand and see any clarity for not just my future, but the world's future.
March through May 2020 was a gut-wrenching time for business owners across industries on a global level. This was different than the 2008 financial crisis, but I knew I needed to harness the knowledge from that past experience of building and ramping-up a new business during the previous downturn. Some business owners put their heads in sand, and others changed course and made positive adjustments. My main focus and mantra was to change what I could control and not worry about the things I could not control. I worked with vendors, just as I worked with my own customers, to lower our monthly burns. We all had to make tough personnel decisions, focus on running lean and mean—and ultimately weather the storm at hand. As I told my employees, the goal was (and still is) to keep the ship afloat so we have a ship to swim back to.
The Virtual Consultation Phase
In May and June, a glimmer of hope started in the form of virtual consultations. We began seeing more and more consumer interest with these types of online interactions with our surgeons. In addition, we started seeing a big uptick in plastic surgery-related searches and overall visits to our clients' websites. So the good thing was the interest was building, but the sales cycle could not be completed until offices and/or surgery centers reopened and resumed elective procedures.
On the Upswing: The Glimmer of Hope Becomes More Than a Glimmer
In June and July, offices and surgery centers slowly started reopening, and the sales cycle began returning to a somewhat normal pattern. There was now reason to be cautiously optimistic about the near future at the very least. The graph below shows the overall growth of Google organic traffic—or total website visits/clicks—for a Mid-Atlantic plastic surgery practice from the inception of the pandemic in March until November 2020.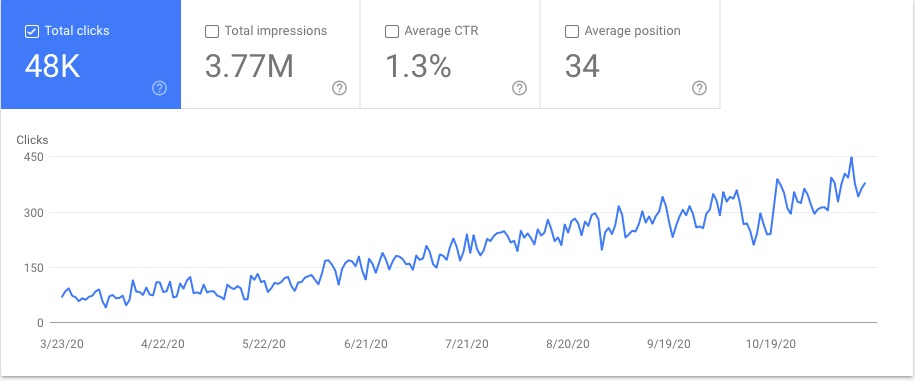 Clicks (or website visits) for a Mid-Atlantic plastic surgery practice during the last 6 months grew at a rate of over 400%
Increase of Google Searches and Website Traffic are Great Leading Indicators
The upswing in traffic seen in the graph above was followed by a surge of surgical consultations and non-surgical treatment appointments. Previous trends have been shattered, and the typical Labor Day slow-down did not occur this year. I believe kids not going back to in-person class this year contributed to the steady rise in cosmetic surgery interest. This also shows the long-term value a properly executed SEO strategy can provide. Even in a year like 2020, the ROI from a successful SEO campaign is hard to beat. SEO and a really good website should be your number one priority—and at the center of all plastic surgery practices' marketing efforts.
How Did We Get Here? What Some ASAPS Members Are Saying
Mark Richards, MD – Bethesda, MD
"Since the pandemic began I've been conducting more consults for both surgical and non-surgical facial rejuvenation treatments than at any time in the past 5 years. I believe the increase in Zoom meetings and other video conferencing chats has caused many
people to see themselves for prolonged periods of time a day. Inevitably they find
aspects of their face that does not match their desired appearance."
Neil Zemmel, MD – Richmond, VA
"Since July we have seen a steady increase in consultations for both surgical and non-surgical procedures. Interest has really peaked this fall, and I am now completely slammed!"
Scott Miller, MD – La Jolla, CA
"More people are paying attention to the things that are closer to home. It doesn't matter as much what car you drive, where you go on vacation, so maybe taking care of yourself and how you look and feel has gone up on peoples' priority list."
Closing Thoughts and Takeaways
There are many theories surrounding the surge in plastic surgery interest, including the increased use of ZOOM and the fact that more opportunities to work from home allow people to recover from surgery more privately. These are all great contributing reasons, but are we really just entering into the YOLO (You Only Live Once) moment of the century? Could this just be the start of something much bigger?
The pandemic, as disruptive as it's been, has also had some silver linings and has changed the way we view certain basic human freedoms that we take for granted until they are taken away. As Anthony Fauci has said, "The calvary is coming"—meaning we now have a viable and effective vaccine on the way. I am excited to learn if my theory is correct and looking forward to seeing what a post-COVID-19 world will look like.
Keith Humes is Founder/CEO of Rosemont Media, LLC, a San Diego-based digital marketing agency. The firm has helped numerous members successfully navigate the rapidly evolving digital marketing landscape with innovative and effective SEO strategies, social media optimization, and customized website development. www.rosemontmedia.com