Industry Jargon Explained: Bounce Rate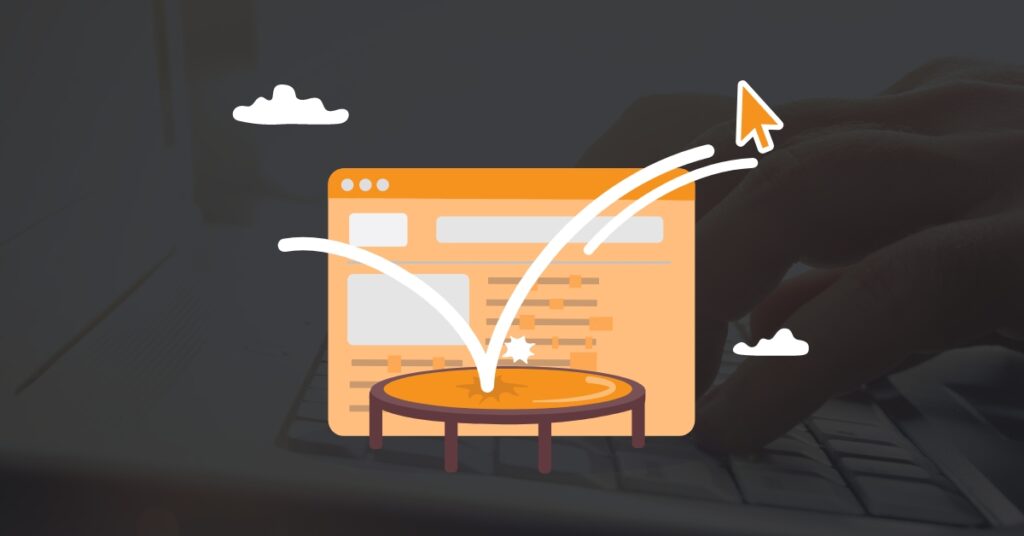 For dentists and plastic surgeons looking to build their online presence and expand their reach to potential patients, understanding certain digital marketing industry terms can be helpful. One phrase you may have heard is "bounce rate." When implementing an online marketing strategy, the term "bounce rate" will often be used when referring to monitoring your website's performance. Generally, you will want to have a low bounce rate percentage appearing within your site's analytics, but there are several things to take into account when looking at these rates, particularly for healthcare professionals.
What Is a Bounce Rate?
The bounce rate of your website determines the percentage of its visitors that viewed a certain webpage without engaging with it, such as clicking another link within your site, or filling out a form. In short, a bounce rate is the percentage of individuals landing on your page and leaving without taking action. When it comes to surgeons and dentists, the bounce rates of pages on your website will vary. Your blogs can potentially have a higher bounce rates — this is because visitors may choose to read the content and move on without engaging further with your website, unless you have optimized your posts with beneficial interlinking opportunities. For procedural pages, this may be the same result, as visitors often read the information they came for and move on. However, this does not mean they won't return and take action (e.g., schedule a consultation) at a later date.
Why Is Bounce Rate Important?
While some pages will naturally create a higher bounce rate due to their structure and goal, a high bounce rate often indicates that online visitors are clicking on your page and immediately leaving without taking action or further exploring your website. Bounce rate factors into the search engine algorithm with websites rising to the top of the rankings when they have content that is informative and engaging. People leaving your page without engaging could mean a multitude of things. It could potentially mean that your page was sufficient and provided the visitors with the right amount of information and they left. However, this could also mean your website isn't loading fast enough or that your page did not provide them with the information they were looking for, so they "bounced." Furthermore, if the design of your website is ugly, messy, or confusing, the viewer may go back to their search results to find a simpler page to navigate. Updating your website design and page structure to fit your patients' needs can help improve bounce rates and optimize your content so viewers are getting the most out of your site.
What Is Considered a Good Bounce Rate?
For most websites, the lower the bounce rate is, the better your rankings will be within search engines. This tells search engines that users are not just simply landing on one of your pages and leaving shortly after without interacting further. Different pages and different sites will have varying targets for their bounce rate, so there is not one end-all-be-all target number. However, generally speaking, the lower, the better. You can monitor your bounce rates and other data in order to track how your website is performing. Additionally, you can compare different pages and analyze why certain content is more engaging than others. Once you have a better understanding of why some pages are performing better, you can adjust your content accordingly, if needed.
How You Can Improve Your Bounce Rate?
There are a variety of ways you can improve your bounce rate for individual pages and your entire website. Some of these methods include using interactive elements such as videos and photos, keeping your content organized and easy to navigate, ensuring the design is user-friendly and inviting, and making sure your site is mobile-friendly.
Interlinking is another great way to improve bounce rate. This means you are including links to related pages to help and encourage viewers to navigate the rest of the site. To add interlinking, you should optimize blogs and procedural pages with links that direct the reader to other related blogs and pages within your website. This interlinking can help with visitor engagement and decrease bounce rates, which can potentially improve rankings on Google. If individuals on a given page continue to click on links that jump to new pages on your site, your bounce rate should decrease.
If you want to know more about bounce rate and how it impacts your website, contact Rosemont Media to talk to one of our marketing experts!