'Twas Three Days Before Christmas at Rosemont Media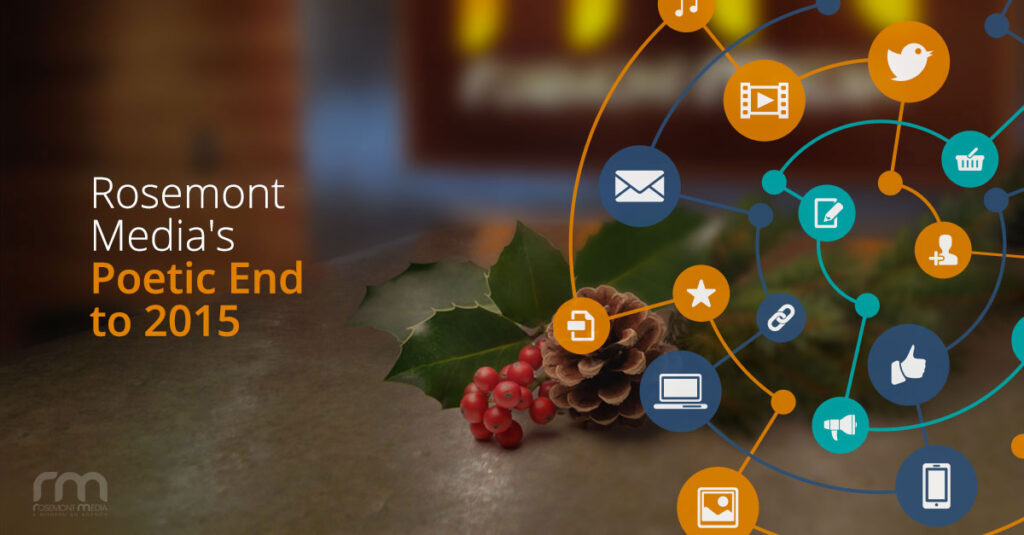 'Twas three days before Christmas, when all through our hallways
the sounds of mouse clicks and keyboards echoed like always.
With the year's end upon us, there's still work to be done,
but we won't let that prohibit our annual poetic fun.
Amidst all the chaos, we've made time to remember
what happened between January, June, and December.
Two thousand-fifteen brought changes slight and bold.
While some weren't expected, others were foretold.
A surprise to none, content marketing remained essential,
and in terms of quality vs. clickbait, the former is preferential.
Another topic of interest was the rise of the online review.
To help shine light on this subject, we made a Buyer's Guide for you.
Mobile marketing is now vital, and after several shots of warning,
Google made slow conformers pay the price on a fateful April morning.
To those who met the mobile deadline, stand up and take a bow;
to those who still remain hesitant: "Embrace it. Embrace it now."
With the boom of social marketing, one question was asked by many:
"Which social media sites should I use, since the options are aplenty?"
While the answer will depend on your vision, goals, and more,
our talented Social Butterflies can make it all less of a chore.
In Google's local search listings, the old "7-Pack" went away,
and in its place appears a "3-Pack," which (for now) is here to stay.
To reach this trio of results – which is more competitive than ever –
a balanced Internet marketing plan should be your top endeavor.
When all's said and done, 2015 has been quite a blast,
so here's to hoping 2016 will live up to the year just passed.
From our team to you and yours, we offer this simple phrase:
"Have a very merry Christmas, and happy holidays!"