AACD and Rosemont Media "Reopening Your Dental Practice" Webinar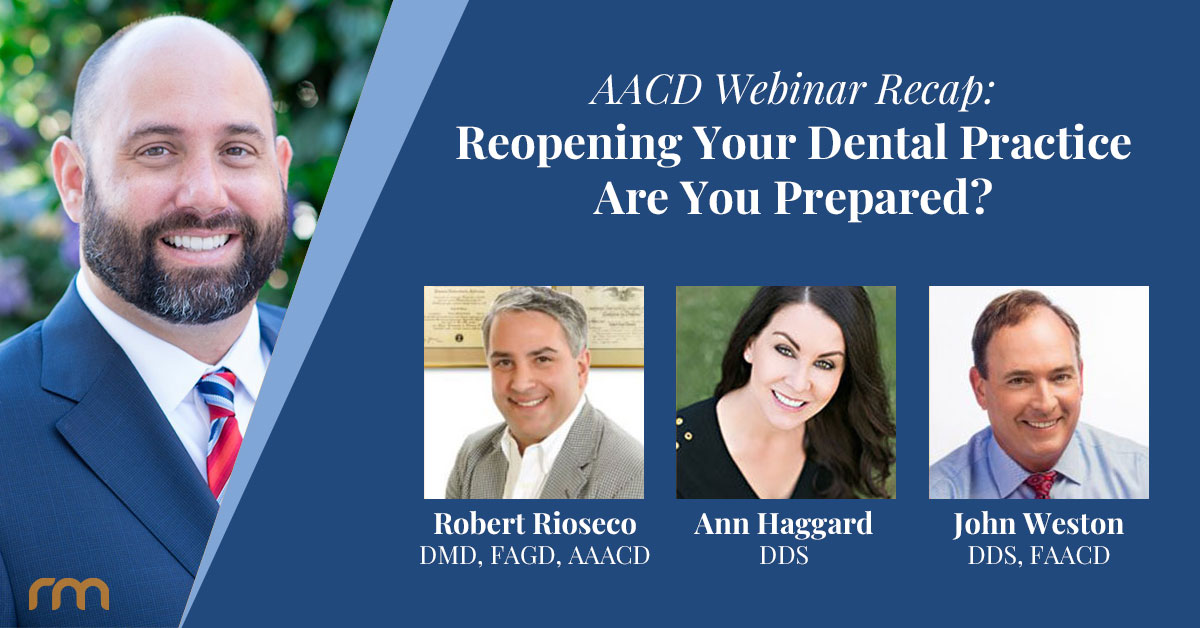 It looks like the tide is finally beginning to turn for dental practices across the country after months of closed doors due to the COVID-19 pandemic. With that in mind, many offices are very cautiously reopening for elective dental care, looking to their local governments, public health agencies, and organizations such as the American Dental Association for guidance on determining the safest way to serve patients in a world where the threat of coronavirus continues to exist.
Last month, Rosemont Media CEO Keith Humes moderated a panel discussion in partnership with the American Academy of Cosmetic Dentistry that explored a number of important topics about how dental practices can navigate this new world we're all living in. The video webinar included input from three AACD-member dentists representing practices located in areas from one end of the U.S. to the other: La Jolla, California; Houston, Texas; and West Harrison, New York. More than 500 people registered to view the webinar. Keith led an informative discussion and Q-and-A session with Dr. John Weston from the Scripps Center for Dental Care, Dr. Ann Haggard from Designer Smiles, and Dr. Robert Rioseco from The Center for Cosmetic Dentistry that lasted well over an hour and touched on a range of topics relating to their practices and how they are handling safety and reopening protocols in their respective states. In addition, the dentists talked about the kinds of requests they've been seeing among patients in their communities throughout the crisis. During the discussion, Dr. Haggard explained that she has actually seen significant interest in cosmetic and restorative procedures over the last few months, despite the economic toll brought on by the crisis in so many different areas of business. She also noted that she has been seeing numerous patients each week who tell her they found her practice via her website and blog, illuminating the importance for practices to continue their web-based marketing strategies in order to ensure their voices stand out.
All in all, the webinar offered a great way to gain insight on what's happening during the transition from practice closure to reopening in a changed environment, and the steps being taken to keep patients safe while continuing to thrive.
Keith and the entire Rosemont Media team thank the AACD, Dr. Haggard, Dr. Rioseco, and Dr. Weston for their involvement in this important discussion. By working together and sharing information, we can continue doing our part to help practices along the path as we get back to normal!
If you would like more information on Internet strategies to help your practice grow, please don't hesitate to contact Rosemont Media today.
View Our COVID-19 Blog Series
Rosemont Media has developed a series of blogs offering tips and guidance on information and promotional strategies that can be helpful to medical and dental practices during the COVID-19 pandemic: